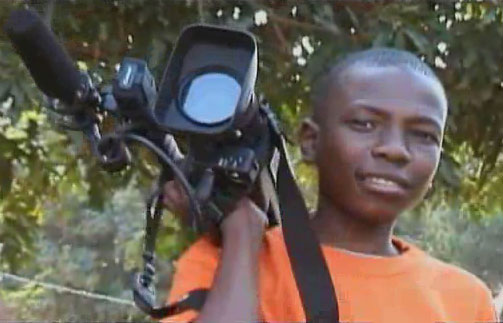 Alcides Soares was seventeen years old when he directed
"Home Is Where You Find It." He was chosen by American TV writer and executive producer, Neal Baer (ER, Law & Order: Special Victims Unit) and director Christopher Zalla (Sundance award winning "Padre Neustros") to make a film about his life as an AIDS orphan, searching to find a family after his parents have died. Alcides lives in Maputo, Mozambique and is finishing high school. He plans to study filmmaking and architecture in college.
Alcides Soares writes about his heroes:
COMMUNITY HERO:
HOME IS WHERE YOU FIND IT
My heroes are Jesus, my dad and Neal Baer. My dad gave me an education and taught me how to live life. Neal Baer found me when I was lost. We all know Jesus; my dad passed away; and Neal Baer lives in Los Angeles, California.

My dad was poor but he made sure I got an education; Neal is the person who worries about my future and my family's future.


My dad influenced me with his positive thoughts. Every time when I'm sad I remember my dad who instilled in me courage, not to give up, to keep trying. Neal Baer influenced me to believe in myself and to study hard and to do the best in everything I set my mind to.


Even though I don't have any family members now who worry about me and my siblings, Neal Baer lives all the way in the U.S. and is the person who worries and makes sure my siblings and I are getting the best education, that we don't go to bed hungry, and that we have what we need to succeed in life. He influenced me to be compassionate and to give back to society.






BYkids is a non-profit organization pairing master filmmakers, including Albert Maysles and Ric Burns, with youth (ages 8-21) from around the world to create short documentaries that educate Americans about globally relevant issues.
The African Millennium Foundation is a strategic non-profit and non-governmental organization committed to the social and economic empowerment of the people of Africa, especially women.
MY HERO story on Holly Carter Board of Director for BYkids
The House is Small Venice Arts in Neighborhoods