For most American teens, their home is their private sanctuary: a place where they can relax with friends or siblings, or enjoy alone time when the world feels overwhelming.

For Divine Bradley, 'alone time' held little bearing. He was more concerned with what was happening out on the street outside his home – and how to go about stopping it.

Every day after school he would see groups of kids with too much free time on their hands hanging out on the streets. Though he had recently moved from a low-income neighborhood into the more middle-class neighborhood of Canarsie, Brooklyn, with his family, he could see that the inner-city streets – and particularly the illegal behaviors associated with them -- still held great appeal for the youth there.

Having run with what, he, himself, dubbed 'the wrong crowds' as well, Divine knew too well what idle time spent loitering on urban streets would eventually lead to for most teens.

Violence, promiscuous sex, AIDS, drugs, prostitution, gangs and other dangerous and often illegal behaviors regularly made so many young people in his community part of the statistics.

Like so many of his neighbors, he inwardly longed for a solution -- an alternative to the loitering that almost always led to trouble. Yet as a 17-years-old inner-city kid himself, he was an unlikely candidate in tackling this problem.

But tackle he did.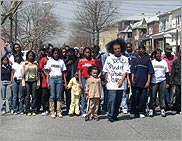 And age actually played to his advantage. As a teen as well as an aspiring hip hop artist who the neighborhood kids quickly grew to look up to, Divine understood the perils of the streets, and was in tune with what would make kids listen up.

"Young people gravitate towards things that they like. So young people like hip-hop, they like fashion, they love computers, they love Internet. You know, all of these things. Socializing and having fun. So you take all of these things and then you use that to get the young people attracted. And you let them know that they can learn about themselves and they can change their community," Divine told the Brick Awards.

He wanted to create a safe haven, a constructive environment where kids could spend time after school, where they could learn and share, and where they could be encouraged towards community involvement. He also wanted to serve as a role model for the youth, most of whom, like himself, had never had that type of figure in their lives.

A member of ART START, a Manhattan-based youth intervention program that helps "at-risk" youths achieve career goals while helping their community, he used the organization as a model to organize his own youth leadership and recreation project. As part of ART START'S Hip Hop Project, he, himself, had seen the first-hand benefits of youth intervention programs, and felt that by incorporating entertainment with a sense of youth solidarity, he could combat many of the problems facing his community.

Throwing away the notion that his new home was his own 'safe haven' from the streets, he opened his doors to the community and started Team Revolution, letting kids meet in his basement after school.




Thanks to Divine's youthful energy and boundless confidence, his idea soon gained support. Focusing on community service, Team Revolution began to make a big difference in the community. Membership grew quickly and a grass-roots fundraising drive for a community center raised close to $25,000 in two weeks!

The community center came complete with a movie theater and a recording studio, but most importantly, was a place they could call their own. It was also a great source of pride for the teens who had raised all the funds on their own.

Initially meeting a few times a week, Team Revolution offered unique outings (like trips to the spa, or to practice yoga, and meditation!), workshops on 'Hip Hopology' where kids could create music, choreograph dances, and discuss musical trends, and trips to concerts and museums – in addition to community work.




Divine has since "created the Fellowship Academy, a specialized school designed for young people with a drive to make a difference in their communities; The Bank, a program that teaches teens with seminars on Economic and Financial literacy with the goal of educating and empowering youth to elevate the financial well-being of humanity; and the Leadership Etiquette and Development program (L.E.A.D.), which creates effective youth leaders."

Through the Fellowship Academy, Divine has created partnerships with larger corporations, partnering with Polo Ralph Lauren, amongst others. Through the Academy's partnership with Polo, young people learn the creative and business aspects of the fashion industry, how to create products, as well as other key factors of business.




Today, Team Revolution still thrives as a youth-led after school program aimed primarily at 13-23 year-olds, and has impacted the lives of over 500 participants since its inception, with no signs of slowing.

Divine, now 24, plans to keep the project 100% youth-led.

He told the Brick Awards: "Even though I'm Program Engineer, sometimes Program Director, I'm moving up to the Executive Director position so that the young people, who are graduates of these programs and are going to become leaders of these programs, can actually have their own space to do what they have to do…. I have a plan. Every five years I have a different level that you can move up [to] in Team Revolution. So I'm actually being that model individual for each person that moves up in Team Revolution."