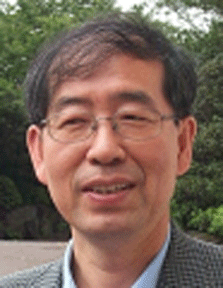 According to Chung Gwang-Phil, Principal of Ewoo School, the role model of this school is "to be like lawyer Park, Won-Soon."
People describe him as a prominent civic leader. He was a founder and the president of the People's Solidarity for Participatory Democracy.
After his resignation, he founded the Beautiful Foundation, a non-profit organization, and became a director.
He consistently inspires people to participate in community work and to learn how to live together. He encourages people to express their opinions on social issues and to do their part to make a better life in Korea.

Park, Won-Soon was the the President of People's Solidarity for Participatory Democracy. It was founded in 1994 with more than 200 members. The People's Solidarity for Participatory Democracy (PSPD) is a civil organization dedicated to promoting justice and human rights in Korean society through the participation of the people.
Park, Won-Soon provided a stepping stone to draw people's participation into politics. He served through PSPD as a watchdog against the abuse of power and has been providing alternatives. Therefore, people can express their voice openly and legally.

Now, he is one of the managing directors of the Beautiful Foundation. He promotes a culture of giving and sharing by providing various methods in which ordinary citizens can participate and connect the resources and needs of society. The Foundation's activities are mainly an awareness-raising campaign for cultivating and encouraging the healthy culture of philanthropy. Particularly, he conducts a public campaign on 1% sharing, which is meant to help people more easily participate in donation and social contribution programs for the business sector. He acts as a pioneer to cultivate a culture of donation, which is unusual to ordinary people. Thanks to his efforts, many people have become aware of the necessity to contribute to the community.