Some people might let tragedy limit them from being happy. Head of a super PAC, ex-Presidential candidate, Olympic speed-skating sponsor, philanthropist, political commentator, actor, comedian, father and TV personality.  Who might this be?  None other than Comedy Central's Colbert Report host, Stephen Tyrone Colbert.  Hailing from Washington, DC, he has seen politics in action since his birth on May 13, 1964.  He is the youngest of 11 in a devout Roman Catholic family.  Stephen Colbert worked his way up from a reoccurring bit part on the Daily Show with Jon Stewart to hosting his own award-winning show.  Colbert possesses a good heart and wit.  He uses his character to do good in the world.  Stephen Colbert is my hero because he has persevered in the face of tragedy and he is a philanthropist that has raised funds for many good causes.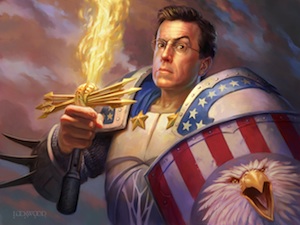 Some people might let tragedy limit them from being happy.  Not Stephen Colbert, in fact he did the opposite.  He experienced such a catastrophe and still went on to a career of comedy.  Stephen Colbert's father and two brothers were three of 71 passengers to die on the Eastern Air Lines Flight 212 on September 11, 1974. Colbert was 10.  This was a freak accident fueled by the inattentiveness of the pilots.  It was recorded that they were more interested in the nearby amusement park than the controls on board.  The aircraft crashed just short of the runway exploding on impact. Such an event changed a young Stephen Colbert's life.  It is odd to think that without this event Colbert wouldn't be who he is today.  It still amazes me that he is the man he is today with such a terrible event in his past.
Colbert was quoted as saying, "Well, it might have something to do with the fact that my father and two brothers were killed in a plane crash when I was 10, and I was left home with a grieving mother. And my main mission became to make her laugh." (Tehrani) Colbert helped his mother survive this hardship.  The two brothers were the next oldest after Stephen leaving a gap between him and his siblings.  The older siblings left the house soon after the tragedy. This left Stephen alone with a grieving mother. Colbert is the tragic hero in his life story.  It's ironic that tragic heroes were not his forte in theatre. He kept his mother going when she couldn't. He was there for the days she didn't want to get out of bed, for eight years until he went to college. Colbert also was his mother's hero when he put his award winning show on hiatus to take care of her when she fell sick at age 91. While other boys were out playing and chasing girls, he took care of his mother.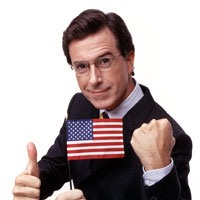 Colbert is heroic because he maintains such a wealthy social status and still gives back to the people. He is affiliated with such great charities as "Autism Speaks" and "The Yellow Ribbon Fund."  Colbert is constantly playing an arrogant character, making it his job to never break character, but his one exception is his generous support of these causes.
One of Colbert's many charities is the "Gulf of America" fund. Gulf of America, you ask? Colbert was quoted as saying "I don't think we can call it the Gulf of Mexico anymore. We broke it, we bought it." And thus coined the name. It was sponsored by Bing. Every time Colbert said the word "Bing," Microsoft donated $2,500 to the gulf oil spill relief. He ended up raising $100,000 by the end of the episode. It was heroic of him to use his resources to help such a catastrophic event.
Stephen Colbert also has donated to help the plight of autism. At "The Night of Too Many Stars" Colbert was one of dozens of celebrities to donate to Autism education. Colbert donated $50,000 to promote research and development of a possible cure and management of the condition. This is heroic because little is known about the cause of autism and yet more and more kids are being diagnosed with it.  Colbert used entertainment to educate and inform the public about something they wouldn't otherwise know.
Colbert is a good person and model citizen, a survivor and philanthropist. Colbert uses his connections and wit to help others and promote their causes. He has persevered tragedy and still manages to make people laugh. Colbert is a hero because he puts others before himself, whether it is his mother or the less fortunate. Stephen Tyrone Colbert is a hero.
Works Consulted

SavetheChildrenUSA. "Stephen Colbert's Charity Work." Squidoo. Web.
Stephen Colbert." Contemporary Authors Online. Detroit:

Gale, 2009. Gale Biography In Context. Web. 6 Apr. 2012.
"Stephen Colbert." Encyclopedia Britannica. Web. 1 Apr. 2012.
Stephen Colbert." Newsmakers. Vol. 4. Detroit: Gale, 2007.
Gale Biography In Context. Web. 30 Mar. 2012.
Northwestern Magazine. Northwestern College, Winter 2010. Web. 6 Apr. 2012. .