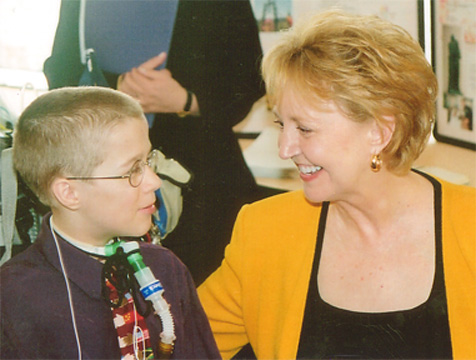 Mattie J.T. Stepanek and Ann Armstrong-Dailey
Photo courtesy of James A. Hawkins
Ann Armstrong-Dailey remembers what it is like to be facing a life-threatening condition as a child. Mother and care-giver, she knows firsthand the importance of "caring when cure is no longer an option" and the importance of "living each day to the fullest"!
Ann is a pioneer of children's hospice and palliative care. Children's Hospice International, Inc. was created in the mid-1970s when newly developing hospice programs would not accept children. CHI was incorporated as a non-profit organization in 1983.
CHI focuses on life and living; on the quality of every child's life and the ongoing life of the family. CHI supports children with life-threatening conditions, their families, and the health care providers who care for them throughout the continuum of care, in the hospital, home, hospice, or other appropriate facility.
Children are not supposed to die, but they do. Millions of children die each year worldwide without appropriate care. In the United States alone approximately 53,000 children die each year, and it is estimated that over a million children suffer from serious chronic and life-threatening conditions. Research suggests that for every child diagnosed around 300 more people are affected, immediate and extended family, neighbors, schoolmates, the community.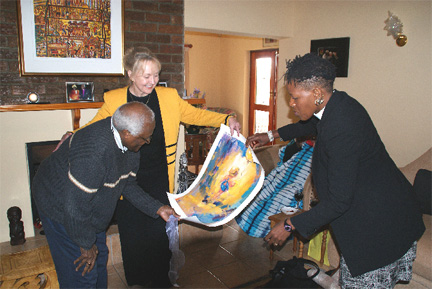 Ann presents a Marilyn Sunderman's limited edition lithograph, Towards Light, to Archbishop Desmond Tutu and Reverend Mpho Tutu
Photo courtesy of James A. Hawkins
The loss of a child can be a devastating experience for the family. Children's hospice and palliative care can turn this potentially destructive experience into a strengthening and bonding one for the family. The knowledge that you have done everything possible for your child can be of great comfort.
Timmy, a 5-year-old child with kidney disease, spent his last few weeks of life in a leading children's hospital. When his prognosis became terminal, he was moved to a room at the end of the hall. Timmy's health care providers, feeling failure and denial, and his parents, unable to bring themselves to face his inevitable death, withdrew from him emotionally. Timmy blamed himself and tried to understand what he had done to drive everyone away.
Timmy died without physical pain but emotionally isolated, without the reassurance of his parents' love. To paraphrase Mother Teresa: The greatest pain on earth is not the pain of hunger or poverty but rather the pain of isolation, abandonment, and feeling unloved. Through hospice-type support, Timmy, his parents, and his health care providers could have known that what they were feeling was normal. They could have cried together and expressed how they would miss one another. They could have shared the picture of the butterfly bearing the words, "I Love You Mom," which Timmy drew just before he died, alone.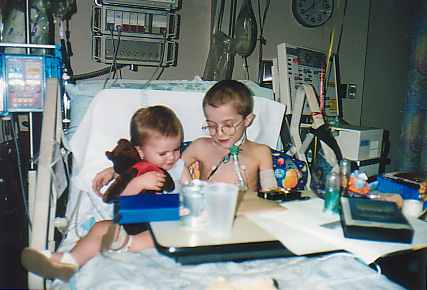 Mattie J.T. Stepanek and Jessie Lowe
Photo courtesy of James A. Hawkins
Health care providers, trained to cure, encounter their own unique challenges when a child they are involved with dies. The concept of children's hospice care, incorporated into their regimen, reminds health care providers that they can continue to care even when they cannot cure. Staff support programs ensure that they can receive appropriate support themselves.
Children's hospice and palliative care has been developed to meet the special needs of children and their families who are facing death situations. It is a concept of care that brings together physicians, nurses, social workers, therapists, teachers, clergy, administrators, and volunteers as a team to provide the care and support needed. The child and the family are the leaders of the team. The focus of hospice care is on life and living -- improving the quality of life for the patient and the ongoing lives of the family, ideally from time of diagnosis.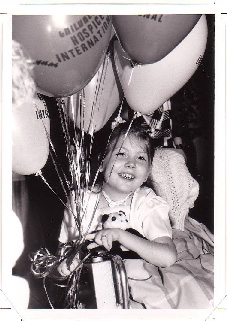 Melinda Lawrence
Photo courtesy of Linda Bartlett
In response to the special needs of children with life-threatening conditions and their families – documented through three decades of interaction with children, families, and their health care providers – Children's Hospice International, Inc. (CHI), with funding from the U.S. Congress, and with technical assistance from the federal Centers for Medicare and Medicaid Services (CMS), developed the Children's Program for All-Inclusive Coordinated Care for Children and Their Families (ChiPACC). This program provides comprehensive, appropriate care for children with life-threatening conditions and their families from time of diagnosis, both with hope for cure and through extensive bereavement support if a cure is not found. The ChiPACC program provides a continuum of care from diagnosis through bereavement THROUGHOUT THE CONTINUUM OF CARE: HOSPITAL, HOME, HOSPICE OR RELATED INSTITUTIONS. The ChiPACC Bill (H.R.722) is pending in Congress. It is also known as The Mattie & Melinda Bill in honor of Mattie J.T. Stepanek and Melinda Lawrence who were perfect examples of "living each day to the fullest"!
"Melinda Lawrence asked up before she died "Please don't be sad when I go to Heaven! Look for a Rainbow and know that I'm dancing on top of it!"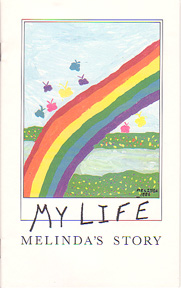 Book written by Melinda Lawrence

The primary "seeds" from which Children's Hospice International (CHI) grew, came from Ann's own personal experiences. Her grandparents -- G.G. and V.T. Rice -- who, having buried four of their five children and a grandchild, still managed to live life to its fullest. She learned from example how to turn pain into positive action. Her childhood experiences, including being at ground zero during the bombing of Pearl Harbor (December 7, 1941). Her mother protected her with her own body when a kamikaze pilot shot at them as he was crashing into the sea. They stayed hidden in a cave until evacuation and the anguishing voyage home. Ann has had a lifetime of personal "life and death experiences" which propelled her into hospice and palliative care and the founding of CHI.

Partial Excerpts from Preface Hospice Care for Children, 3rd edition, Oxford University Press (used with permission)