Our names are Segev Rom and Amit Waisel. We are 6th grade students from Petach Tikva, Israel. We wanted to show you how special a school can be because of our teacher, even in hard times such as the times we are having here in Israel. Marsha Goren has been our teacher since 4th grade. She is the reason our English is so good, and we like to do many interesting things to improve it.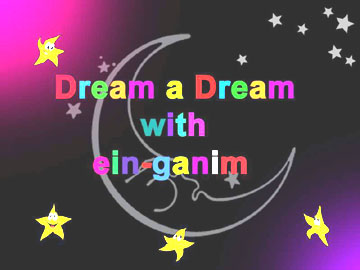 Our project is called Dream A Dream with Ein Ganim , the name of our school. In the project, we write so many children around the world by writing e-mails, sending packages, writing letters and writing in our forum and discussion board.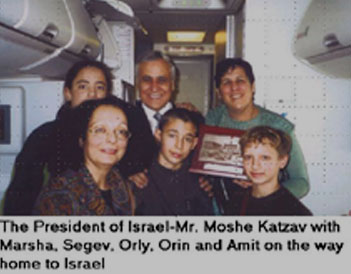 We traveled to Rome with one other classmate about two months ago. Our school won the privilege to participate in the twinning project through the Global Junior Challenge organization of Rome, Italy. This project encourages global learning with other children. Our delegation, together with delegations from Nepal, Cameroon, Croatia, Argentina, USA and Uzbekistan was each twinned to an Italian school in Rome. (We write to Uzbekistan in Friends and Flags too – I'll explain that later.) Our twinned school is called Walt Disney School.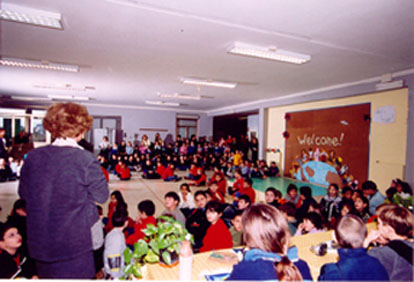 The management and the children there are great. Together we won an award in the twinning project for having a great project and ideas on how to develop it together with our excellent collaboration. This trip was also because of Marsha's efforts for global collaboration with schools around the world and to encourage the building of friendships among all involved.

We also received first prize for Mrs. Karen Eini – the coordinator of Friends and Flags. She is also from Israel. We represented our country with great honor and respect. In the F&F project, we write to many children using the project's interactive site.



We also took part in a really BIG project with Intel Israel using the newly developed "Seeing Reason" tool. We researched the road accidents, a very interesting subject and necessary to know about. My class all did these projects, and Intel gave us each a pen, a shirt, and a "Bunnyman" keychain. They took pictures of us. We also were at their building in the industry area of Petach Tikva. One of the people there talked about Intel, and we thanked them for doing everything for us.

During the last summer vacation (after 5th grade), two of my friends and I took part in a competition arranged by the eZedia Company. We explained about Marsha's projects and about something we each liked. About two months after the beginning of school, it was announced that we won 1st place!!! We won an eZedia MX (the demo program we worked with, just in full version) for each of the children of our class (25), one for Marsha (1), one for the eMac we won (1) and another one for another kid from another class that also did the work, overall 28 programs, one for eMac!!! We used the money to buy a new computer with a Pentium 4 processor for the English room. Marsha met with us during the summer holidays and encouraged us to enter the contest because she wanted the school to win the computer and when we won, she cried. She was so excited! Marsha also won another two prizes from the P.E.F. Endowment Fund from the Ministry of Education in Israel. One was for the "Dream a Dream" project, which I already explained about, and the second for the "Rock & Roll" project. The amount of the two prizes was $1,200! (Again, the money was given to the school.)

Marsha also recently participated in a contest held by F&F for children. Anyone that participates needs to write about why his teacher is special. We saw your contest and decided to write about Marsha because we think that publishing Marsha and our "Dream a Dream" site on new places is very important.

It is our opinion that she is truly a hero. Her work is outstanding and she loves children very much. Her investment and commitment to us is truly genuine and unique. This is why she is our hero. She truly deserves to be a hero on your site.

Sincerely,

Segev Rom and Amit Waisel
Ein Ganim Elementary School