Hannah Elizabeth Pick-Goslar is my heroine. She was born in Berlin, Germany. When she was a girl, she, her parents, and her sister Gabi left Germany to escape the Nazis. They moved to Amsterdam, Holland, into a building next door to the one in which Anne Frank was hiding with her family. Hannah was 14 when the Nazis invaded Holland.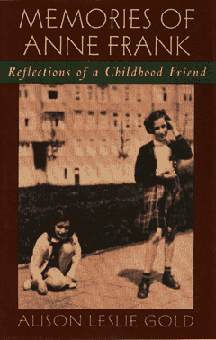 Hannah Goslar (right) with her friend Anne Frank
Hannah was sent to a concentration camp after the death of her mother. At the camp, her sister Gabi got very sick but survived thanks to Mrs. Abraham, the rabbi's wife. Mrs. Abraham gave Gabi an extra glass of milk each day until she got better. A few weeks after Gabi recovered, the sisters were sent to another camp. At that camp there was a fence with barbed wire on the top, and one night the Nazis set up tents on the other side of the fence. The rumor was they had set up a Dutch camp.
One night Hannah wandered over to the fence. It was then that she heard Anne's voice. It was Anne Frank, her old neighbor in Amsterdam. The following night Hannah brought Anne a small bag containing bits of food and a pair of socks. The next morning when she awoke the tents were gone, and Hannah and her sister were forced to board a train of of cattle cars to be taken to the next camp.

Halfway there, they heard bombs and they were rushed out of the cars. They ended up walking into a small town named Westbrook. There they were told that the war was over. Hannah was then taken to a nearby hospital for the night.

The next morning, Hannah found Mr. Otto Frank sitting by her bed. He told her that Anne and her sister had died at the Bergen-Belsen concentration camp. Mr. Frank promised to send Hannah and and Gabi to a sanatorium in Switzerland, where their uncle was living. They exchanged a few happy moments together remembering Anne and all the happy times they shared together.

Hannah Goslar now lives in Jerusalem, Israel, with her daughter Ruth and her six grandchildren.