Jonas Salk
by Geeta Malik
I feel that the greatest reward for doing is the opportunity to do more.
Jonas Salk was born on October 28th, 1914, in New York City. His parents were Russian-Jewish immigrants who had fled the old country for a new life in the United States. Salk was a brilliant student at a young age. When he was 15, he graduated from high school, and intended to go on to become a lawyer. Somewhere along the way, Salk changed his mind and decided to use his intellectual talents to pursue medicine instead. And it's lucky for the world that he did!
Salk enrolled in the medical school of New York University. He began his research on the flu virus, accumulating knowledge that would lead to his discover of the polio vaccine. In 1947, Salk went to the University of Pittsburgh Medical School on an invitation. It was there that he began his work on the polio vaccine. At the height of polio season, the summer of 1950, Salk was working away in his laboratory to prevent further spread of the crippling disease. His work paid off when, in 1955, the news was made public that Salk had discovered a vaccine for polio.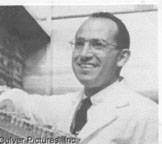 Salk, though he was hailed as a miracle worker and a national hero, remained shy of the public eye. He declined to apply for a patent for the vaccine, saying that he was more concerned with people having access to it than the money it would bring him. After working on the vaccine for eight years, Salk made the vaccine available to the public. He later founded the Salk Institute for Biological Studies in La Jolla, California, allowing others to perform their research.
Salk was only 45 when he discovered the polio vaccine. His next project, one that lasted up until his death in 1995, was to find a cure for AIDS. Salk died of heart failure on June 23rd, 1995, at the age of 80. His contributions to the world of science and health are still utilized today, and his generosity of spirit lives on.
Page created on 7/19/2006 10:43:11 AM
Last edited 1/9/2017 10:35:17 PM