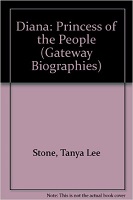 Diana: Princess of the People
by Tanya Lee Stone

Publisher: Lerner Publishing Group, April 1999
ISBN: 0761312625

MY HERO recommends this book to children readers.

Synopsis
One of the most well-known figures of our time, Diana, Princess of Wales, lived a short but meaningful life. She used her royal status and high profile to help many people, touching them literally and figuratively by reaching out to AIDS patients, sufferers of leprosy, victims of land mines, and countless others. She also gave the royal family a human, approachable face, and was adored by her public in England and around the world. This book follows her life from childhood to its sudden end, and examines the challenges she faced being in the public eye.

Purchase this book
---
Hero(es) associated:
Princess Diana by Jeff Trussell
---
Users Reviews:
patty 12/1/2010 5:20:19 PM
this book helped me understand a lot of things
Callahan 3/10/2008 5:29:25 PM
loved it! you should really read it!!!!!!!
Ashley <3 2/8/2007 10:47:53 AM
read it, loved it, talked about it! always something great to read!
amanda 2/5/2007 3:06:35 AM
i think if she hadnt died she would have done alot of the great things in her life
rosa 3/10/2006 9:48:33 AM
I think that she is a woman who inspires people like me and other people
Elsa 11/26/2005 6:19:38 PM
She was a great woman that loved to help everyone in need.
Jasmine Allaway 2/10/2005 10:41:22 AM
It was very good and i thought it was interesting
cake cirk 11/9/2004 5:54:38 PM
i really enjoyed the book. thank you so much for publishing a very interesting book!!!
derty 11/2/2004 6:01:27 PM
i loved it. it helped me understand the different aspects of life itself. thank you for writing and publishing a really inspiring book telling the truth about Diana!
cara 10/26/2004 7:36:36 PM
this book helped me to understand her life was more than power and money.
Josie 10/18/2004 4:34:34 AM
It's amazing that someone with so much power and money could be so kind and be so heroic in the way she helped people. A hero is not someone who wins a medal for a race, they are an inspiration and a dedicated person, a hero is someone like Diana who truly makes a difference in the world.
---
Add your comments