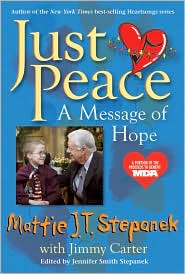 Just Peace: A Message of Hope
by Mattie J.T. Stepanek, Jennifer Smith Stepanek (Editor), Jimmy Carter (Foreword by)

Publisher: Andrews McMeel Publishing, February 2006
ISBN: 9780740757129

MY HERO recommends this book to readers of all age groups.

Synopsis
Sometimes the most important messages come from the most unlikely places. Mattie J. T. Stepanek, a 13-year-old boy, made a difference before he died with his Heartsongs poetry. He continues to impact the world through Just Peace. This poet, best-selling author, peace activist, and prominent voice for the Muscular Dystrophy Association fervently believed in and promoted world peace not just as a concept, but as a reality.

Mattie was working on this manuscript with Jimmy Carter when he died in June 2004. His mother, Jeni, who edited the material and wrote a preface for the book is publishing it at her son's request. Just Peace explores Mattie's concept of the world and all people as a unique mosaic of gifts. War and injustice shatter the mosaic, which can only be made whole again by planning and actively pursuing peace. The young visionary's essays, poetry, and photographs appear throughout the book. Jimmy Carter has written a special foreword and forthword for the book. Just as important to the book and enlightening to the reader are Mattie's many correspondences. Central to these are his personal e-mails to and from former president Jimmy Carter, Mattie's peace "hero" and role model. The Nobel Peace Prize winner met Mattie, considered him an angel, messenger, and hero in his own right, and was genuinely affected by Mattie's passion and drive. Just Peace is an intimate portrait of a president, a young man of hope, and peace itself.

A portion of the proceeds from Just Peace will be donated to the MDA Mattie Fund designated for medical research to help find treatments and cures for childhood neuromuscular diseases.




---
Hero(es) associated:
Mattie Stepanek: For Our World
Mattie Stepanek
Mattie Stepanek by Jim Hawkins
Mattie Stepanek
---
Users Reviews:
Kyla 11/8/2009 10:07:19 AM
how touching.
sarah 10/7/2009 7:38:26 AM
u were so brave u rock i have just peace and i loved it i read it when im baby sitting u rule xoxo
kel 2/15/2009 1:42:27 PM
he is so awsome
Hal Martin 1/18/2009 4:21:33 PM
The book is heartfelt and it brought me to tears I have to admit, Mattie is such a strong andvocater and will live on through legacy.
---
Add your comments