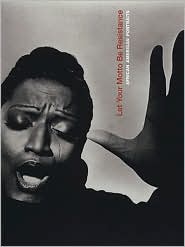 Let Your Motto Be Resistance: African American Portraits
by Deborah Willis, Cheryl Finley, Sarah Elizabeth Lewis

Publisher: Smithsonian Institution Press, August 2008
ISBN: 1588342468

MY HERO recommends this book to adult readers.

Synopsis
The book features 100 images selected by the principal author Deborah Willis from the photography collection of the Smithsonian''s National Portrait Gallery. The book traces the history of portrait photography through the lens of the African American experience, exploring its influential role in shaping public identity and individual notions of race and status. The book also explores the effect on race relations of these positive images that celebrate the beauty of African Americans from the mid–nineteenth century to the present.

The wide range of subjects includes sculptor Edmonia Lewis, scientist George Washington Carver, educator Booker T. Washington, performer Paul Robeson, singers Marian Anderson and Billie Holliday, labor leader Asa Philip Randolph, sociologist and author W.E.B. Dubois, poet Langston Hughes, sports figures Muhammed Ali and Shaquille O''Neal, playwright Lorraine Hansberry, and painter Jacob Lawrence. The photographers range from well–known practitioners such as Berenice Abbott, James Van DerZee, Edward Weston, Doris Ulmann, Gordon Parks, Irving Penn and Carl van Vechten, to others less familiar whose reputations are tied to the fame of their subjects.




---
Hero(es) associated:
Edmonia Lewis by Jerrilyn & Madeline Jacobs
---
Add your comments