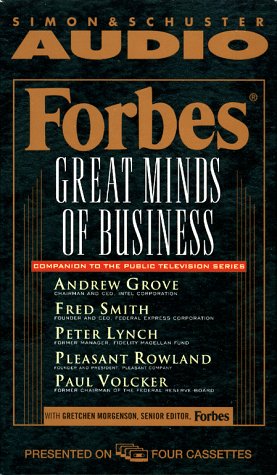 Forbes: Great Minds of Business [ABRIDGED]
by John Wiley, Peter Lynch, Fred Smith, Pleasant Rowland, Paul Volcker

Publisher: Simon & Schuster Sound Ideas; Abridged Edition (October 1997)
ISBN: 0671577220

MY HERO recommends this book to adult readers.

Audiocassette From the Publisher In the fiercely competitive, high-risk world of big business, comparatively few survive the arduous climb to the top and fewer still remain there. Five such extraordinary individuals now share their insights and experiences with Gretchen Morgenson, Senior Editor at Forbes magazine, in Forbes« GREAT MINDS OF BUSINESS. ANDREW GROVE the vibrant head of Intel -- the company whose microprocessors power 90% of the world's computers -- is widely regarded as the best corporate manager in America. FRED SMITH a shining example of entrepreneurship at its best, the founder of Federal Express, Inc. has built an entire industry from scratch and has physically changed the way business is done. PETER LYNCH during his 13 years at the helm of Fidelity's Magellan Fund, he outperformed the stock market averages at least fivefold, and masterfully turned Magellan into the nation's largest mutual fund. PLEASANT ROWLAND with no experience in either the marketing or the toy business, she founded Pleasant Company, an immensely profitable doll, clothing, and publishing empire that is now worth $250 million. PAUL VOLCKER perhaps the most famous chairman of the Federal Reserve, he laid the foundation for the biggest wealth-creating bull market the United States has ever known. A fascinating look at five of today's top business personalities, Forbes« GREAT MINDS Of BUSINESS is also an informative and inspirational guide to what it takes to succeed and thrive in today's business world.


---
Hero(es) associated:
Pleasant T. Rowland by Gabriela
---
Add your comments