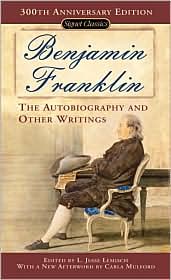 Benjamin Franklin: The Autobiography and Other Writings
by Benjamin Franklin, L. Jesse Lemisch (Editor), Carla Mulford (Afterword)

Publisher: Penguin Group (USA), September 2001
ISBN: 0451528107

MY HERO recommends this book to adult readers.

Synopsis
A Founding Father of the U.S., Franklin was a true Renaissance man: writer, publisher, scientist, inventor, and diplomat. During his life, he offered advice on attaining wealth, organized public institutions, and negotiated with foreign powers to ensure his country''s survival. Collected here are some of his greatest and most timeless writings.