"It is not the power that corrupts but fear. Fear of losing power corrupts those who wield it and fear of the scourge of power corrupts those who are subject to it" (Aung San Suu Kyi 233).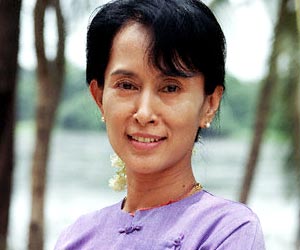 "The thing about a hero, is even when it doesn't look like there's a light at the end of the tunnel, he's going to keep digging, he's going to keep trying to do right and make up for what's gone before, just because that's who he is" (Joss Whedon). Aung San Suu Kyi shows she is a true hero, throughout her struggle, continuing to strive for human rights and democracy for the Burmese people. Aung San Suu Kyi works persistently, for what she believes is right. "Aung San Suu Kyi was born June 19, 1945, in Rangoon, Burma. Her father was Burmese independence leader Aung San, who was assassinated when Suu Kyi was two years old, and her mother was Khin Kyi, a former Burmese ambassador to India"( "Aung San Suu Kyi"). 45 years later, her mother died as well. Aung San Suu Kyi, raised around politics almost her whole life, continued to study it throughout her collegiate years( "Aung San Suu Kyi"). While in college, she met her husband and had two children, Kim and Alexander, her only family left . However, under the new government put in place, the SLORC, or, "State Law and Order Restoration Council" "...[which included] massive arrests, tortures, executions, enforcing slave labor, and forcing entire areas of people to destroy their homes and move. Signs were erected everywhere with such messages as 'Crush Every Disruptive Element.' One was posted outside Suu Kyi's home"( "Aung San Suu Kyi"). This harsh new tyranny, forces Suu Kyi to stand up for her people, and take action, leaving her family behind. Soon after the SLORC is formed, she co -founds the NLD, The National League For Democracy, in opposition ("Aung San Suu Kyi"). A hero, like Aung San Suu Kyi, under no circumstances, would be a bystander as people harm others. A hero is someone who will stand up and do something about it, acting as a catalyst of change. Aung San Suu Kyi, a pro-democracy activist and nobel peace prize winner, continues to fight for her beloved country under oppression. Aung San Suu Kyi's determination, peaceful protesting, and momentous sacrifice both in and out of house arrest earns her the title of a hero.
The determination Aung San Suu Kyi shows throughout her struggle, shows she is a deserving hero. She presented various speeches to huge crowds during her protests. In one of her speeches she tells her supporters,"When I joined the democracy movement I made hardly any promises...because I don't want to make promises which I'm not able to keep. But one of the things that I did promise was that I would work for the movement for democracy until we achieved our goal. And I can't go back out on that promise...But I'm prepared to discuss ways and means of bringing about national reconciliation"(Aung San Suu Kyi and Michael Aris 263). A promise is an oath to do something, and in this case Aung San Suu Kyi pledges to work for what she believes is right. Aung San Suu Kyi felt determined to finish what she started, and worked vigorously to keep her promise to her people. Suu Kyi works towards her goal no matter how long it takes, or how much it costs. While under house arrest, the SLORC takes away almost all communication from her family and the world, leaving her isolated with nothing to do and no one to talk to. The SLORC entices her to make her want to leave the country, planning on keeping her from ever returning. However, Aung San suu Kyi isn't oblivious towards their actions. She states:"I don't care if they deprive me of all of my privileges. They should not think that by making my personal conditions easier for me that this would in any way induce me to give up my convictions"("Aung San Suu Kyi"). She is determined to bring a substantial democracy in Burma. She puts aside her personal problems to focus on the real issue at hand, her country. Their efforts to try to get her to leave, do not affect her, nor do they make her want to leave Burma, because she knows the lives of her people are crucial. Aung San Suu Kyi , knows her people need someone to speak up for them against the SLORC, to gain human rights and independence the Burmese people deserve. Her determination during the fight for democracy and human rights recognizes her as a hero.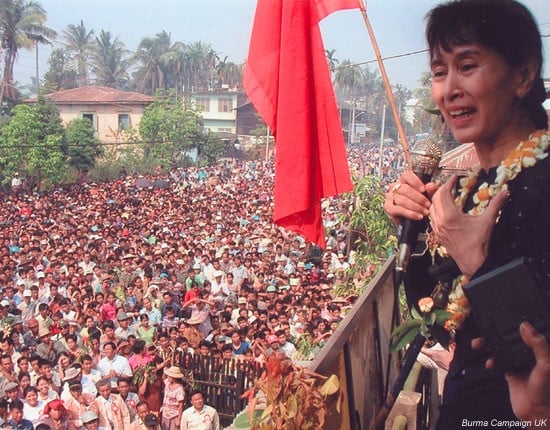 Aung San Suu Kyi is continuously placed into situations where she could choose to respond with violence and bloodshed, however her choice to protest peacefully proves her to be a hero. Aung San Suu Kyi intends to protest non-violently by giving speeches in front of the Burmese people,"..she gave her first public speech on August 26, 1988. Addressing an enormous crowd gathered in Rangoon, she called for a multiparty democracy, unity, basic human rights, and above all non-violence.."( "Aung San Suu Kyi" ).She avoids all violence with her speeches, denouncing the tyranny by calling for human rights and democracy, knowing that responding to violence only leads to more needless casualties. She informs her country they will fight only in a non-violent fashion. During another speech, Aung San Suu Kyi states, "What we need is a spiritual and intellectual reconciliation...I've always said that the only answer to Burma's problem's is dialogue...I'm ready at any time, but they [SLORC] seem not terribly keen. And I wonder why"(Aung San Suu Kyi and Michael Aris 255). Aung San Suu Kyi shows her efforts through peaceful protests by requesting dialogue with the government.Instead of attacking the government, Aung San Suu Kyi tries negotiating with them and trying to find peace with them. She chooses to speak in opposition, never trying to harm them to win human rights and democracy. Her continuous efforts to protest peacefully justifies she is a true hero.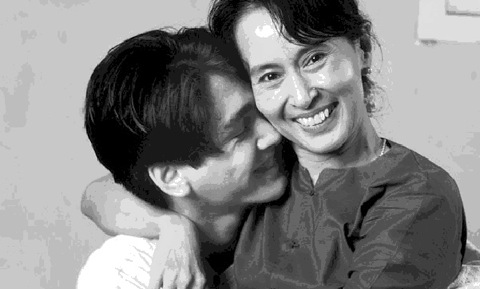 The sacrifice Aung San Suu Kyi shows for her people, both in and out of house arrest, signifies her as a hero to both the Burmese people, and people around the world. One huge sacrifice she makes is her family life for helping her country. While under house arrest, the government takes away most of Suu Kyi's communication with her family and she knows if she leaves Burma to see them, she wouldn't be able to return to help her people. "Suu Kyi's family remained in Britain for their safety, and she was able to see her children only very rarely. Under house arrest She is unable to see her husband, Michael Aris, before he died of cancer in 1999. Even though he is dying, the military government refuses to allow him to visit her"("Aung San Suu Kyi"). One of Suu Kyi's biggest sacrifices for her people is when she chooses to stay in Burma and fight for her country even though her husband is dying and she hasn't seen him in 4 years. She gives up seeing her children's accomplishments in life and is not able to watch them grow up. They are her only family she has left, after her mom died in 1989. Suu Kyi decides that to keep her promise and fight for human rights and democracy in Burma, she would have to stay there and leave her family. She not only sacrifices her family, but she sacrifices herself for her people. "In April 1989, while walking with a group of supporters, a squad of soldiers suddenly jumped out of their vehicle and took aim at Suu Kyi and her friends. Motioning to the others to scatter, she walked up to the soldiers and stood directly in front of their raised rifles. 'It seemed so much simpler to provide them with a single target than to bring everyone else in,' she later explained. The soldiers retreated"("Aung San Suu Kyi" Biography). Aung San Suu Kyi willingly confronts the armed men, hoping she would save more people. She is inclined to sacrifice her life, standing unarmed, in an effort to keep the people safe around her. Lastly, while under house arrest, Suu Kyi she wins prize money: "Although she lived in conditions close to poverty at her dilapidated villa, Suu Kyi refused to use any of the $1.3 million in prize money for her own personal needs. Instead, she used the money to set up a health and education trust for the people of Myanmar"(Martin). She sacrifices her living conditions for her country ensuring they have safety. Suu Kyi could choose to use the money for food but instead she sells her furniture for food and lives poorly. Aung San Suu Kyi shows she is willing to sacrifice both her life, and her family life, and living conditions for her country, showing everyone she is a hero.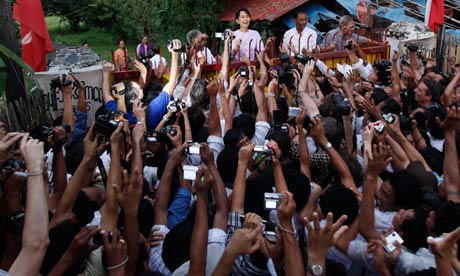 Aung San Suu Kyi is a well deserving hero because of her determination throughout the struggle, her peaceful protesting, and the courageous sacrifices she makes for her people. Some of the Burmese supporters toward Ne Win, leader of the SLORC,claims she's, "...a witch and a traitor"("Aung San Suu Kyi"), however an immense amount of people around the world would certainly disagree. Aung San Suu Kyi today is still fighting for the Burmese people and she won't stop because she is determined to keep her promise. She fights peacefully through innumerable speeches in front of crowds, seeking dialogue and never turning to violence. She sacrifices everything to fight for democracy and human rights. She is recognized as a symbol for human rights and Democracy. Aung San Suu Kyi inspires me, the Burmese people, and multitudes around the world because of what she does for others. She's giving her people a voice and making them feel fearless when they feel like they aren't. When she sacrifices being unable to see her family for her people it truly inspires me because to me family invariably comes first. Her efforts inspire me to be a better person, and to never give up on something even if I want to give in. Her decision to endure all the pain and sacrifices, is inspiring to everyone. Aung San Suu Kyi gives people inspiration to fight back peacefully at what they believe in. She proves she is a well deserving hero through her continuous acts of heroism. Aung San Suu Kyi has her mid set and nothing is going to stop her now.
Works Cited
"Aung San Suu Kyi." Aung San Suu Kyi (Biography Today) (2010): 1. Biography Reference
Center. Web. 30 Jan. 2015.
"Aung San Suu Kyi." Biography 2.12 (1998): 76. Biography Reference Center. Web. 28 Jan. 2015.
Kyi, Aung San Suu, and Michael Aris. Freedom from Fear: And Other Writings. New York:
Penguin, 1991. Electronic.(Book)
Martin, Patricia. "Aung San Suu Kyi."
Aung San Suu Kyi
(2011): 1.
Biography Reference Center
. Web. 31 Jan. 2015.
Page created on 8/10/2015 12:00:00 AM
Last edited 1/6/2017 9:54:32 PM