Antonio Roman-Alcala dubs himself a 'gardening activist.'
To others, he is simply an urban hero, bringing sustainable, ecologically-friendly farming into an area better known for buildings than beanstalks.
Nestled between Highway 101 and Highway 280 in the San Francisco Bay Area, Alemany Farm stands in stark juxtaposition to the notoriously busy freeway which it is pressed up against.
In a county famous for its exorbitant housing costs, this juxtaposition -- as is so often seen when poverty and wealth stand side by side -- is particularly socio-economically striking.
Here, wealthy families shop at upscale specialty food stores and mingle at farmer's markets, while poor families aren't even aware such choices exist, let along dream of affording them.
Or at least not until Antonio showed up.
Eager to provide urban communities with the empowerment of agricultural self-sufficiency, his Alemany Farm has changed the lives of hundreds in the Alemany public housing community, commonly referred to simply as 'the projects.'
While "guerilla gardening" – that is, creating a community farm or garden in an otherwise neglected urban public lot – is taking root in San Francisco, the Alemany Farm's history runs deeper.
For years the land had been cultivated by 'SLUG' (the San Francisco League of Urban Gardeners) but as the organization folded into debt in 2003, so did the urban oasis.
Soon, like so many of the other lots surrounding the housing project, the land became riddled by unkempt foliage and garbage, and sat in a state of disarray for 2 years.
In 2005 Antonio and other volunteer gardeners began to till the land again, encouraged by Antonio's background in youth service projects and community activism.
Hoping that the garden would trigger interest in residents to continue caring for it, they were pleasantly surprised at the overwhelming response. With such strong community involvement, the housing authority saw its value, and allowed the project to continue.
Today, Antonio helps run Alemany Farm, a thriving community of urban gardeners of all ages.
The program brings farmers and urban youth together – training the younger generation which once felt far removed from the land, in sustainable agriculture and landscaping practices, organic food growing, and even marketing.
With environmental stewardship at the frontline, the program, using local educators and experts, also teaches the community about water conservation, composting, permaculture, and other preeminent environmental topics.
Last year the farm produced 2500 pounds of organic produce, and based on the way things are progressing, it appears as though this year's harvest will surpass even that!
In seeing the project blossom, Antonio is further encouraged in his belief that there should be a significant shift in how the city uses its land in general.
An avid proponent of sustainable agriculture, he feels that when cultivating lots, the city should plant native vegetation or grow food, in lieu of decorative 'ornamentals' that serve only as water-consuming eye candy.
He, as do so many urban gardeners, feels that the key problem is a warped sense of priorities on the part of local and larger government, that place land value over food production and environmental well-being.
In response, as the line between the haves and have nots is drawn deeper, a sense of community is lost, and citizens often become disenfranchised and disheartened by the disparities in economics and opportunity.
The Alemany Community itself, riddled with soaring unemployment rates and violence, sees the farm as a way to provide youth with activities to keep them off the streets, instill pride in the community, and open a door to future opportunities.
Antonio would like to instill this same sense of community throughout the entire Bay Area, and urban regions, as a whole.
He is currently working with filmmaker Jesse Sabin in creating a documentary film on California's growing sustainable food system, both to gather information on the needs of emerging organizations, and to find ways to continue improving and expanding sustainable agricultural practices.
He is also currently nominated as a Br!ck Awards finalist, which celebrates young people -- Antonio is only 25 -- making a difference in the world.
For those in the sustainable agriculture movement, Antonio's work is helping spread the word about the benefits and rewards of organic foods and community farming. For those in the Alemany housing project, though, Antonio's dedication and passionate advocacy have affected everything from the organic, healthy meals they consume, to the sense of pride they hold for their community's refound urban oasis. By touching one neighborhood, Antonio Roman-Alcala has touched the world, one seed at a time.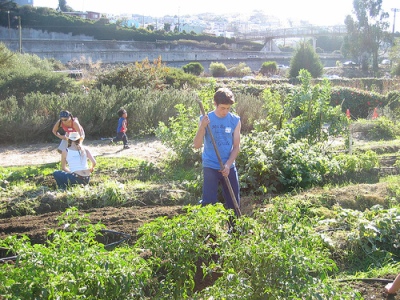 Young and old, alike, work side by side.