Trent Brown Trevor Warren Matt Watson Mr. Rush Communication Skills January 19, 2016 Hero Project

John Paul II Karol Jozef Wojtyla, a.k.a John Paul II, was born in Wadowice Poland in May 18, 1920. He was the youngest of three children. His mother was Emilia Kaczorowska who died in childbirth when Karol was eight years old. His brother and sister died when he was very young and it was said that this impacted him very deeply. When he was attending school as a boy he played sports and had a very strong interaction with a neighboring Jewish community. In 1938, he moved to Krakow with his father where he enrolled in Jagiellonian University and studied philosophy, language (he knew twelve languages), and military tactics but he refused to shoot any weapons.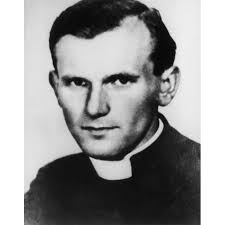 In 1939 when the Nazis invaded Poland, his university was closed and all males were required to work. He worked in a limestone quarry to avoid deportation by the Nazis. While in the mine he was hit by a tram which fractured his skull. In 1941 his father died of a heart attack. This made him the only surviving family member. "I was not at my mother's death, I was not at my brother's death, I was not at my father's death. At twenty, I had lost all the people I loved," said John Paul reflecting on his youth later in his life. Once his father died, he began to consider being a priest. In 1942 he began to train to become a priest. He began to teach an "underground" mass service because the Nazis prohibited worship services. In 1944 on "Black Sunday", more than eight thousand men and boys were sent away. He was able to escape the Nazis by hiding in his uncle's basement. In 1945 the Germans finally left and he resumed teaching at their destroyed seminary. It was also said that during this time after the Germans left the city he began to help Jews in labor camps escape and help them to recover from the invasion.
Wojtyla was ordained a priest on All Saints' Day in 1946. In 1948 Wojtyla went back to Poland in the village of Niegowic and was pastor at the Church of the Assumption. In 1949 he transferred to the church of Saint Florina in Krakow. Wojtyla was a very active priest. He taught ethics at Jagiellonian University and went with his students on prayer retreats that involved skiing and kayaking trips. His students called him "Wujek" which means "Uncle". In Poland it was prohibited for priests to go on retreats with students. So his students called him "Uncle" to avoid outside discussion from others who would know he was a priest. In the mid-fifties Wojtyla began to write articles in the local newspaper about issues and problems in the church. He focused on creating literary work during his first years of priesthood. He published his works under two pseudonyms: Andrzej Jawien and Stainslaw. One of his most famous works was Love and Responsibility - which was a defense of marriage.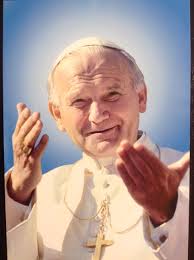 Once when he was out on a kayaking, retreating-prayer retreat with his students, he was appointed Auxiliary Bishop of Krakow. At the age of 38, he was the youngest bishop in Poland. In 1962, Wojtyla went to the Second Vatican Council. Here he made contributions to the Decree on Religious Freedom and the Pastoral Constitution on the Church in the Modern World. Wojtyla also went to the Synod of Bishops. In 1964 he became Archbishop of Krakow. In 1967 he became a Cardinal, appointed by Pope Paul VI. John Paul II is a man who is known to all as being kind, generous, loving, forgiving, and wise. He has done many great things that people would cower to do. He stood up for his beliefs and the beliefs of others, and he fought for righteousness. During his papacy he accomplished much and became a role model for many. On May 13th, 1981, John Paul II was going out into St. Peter's square to address the crowd. While on his way out he was shot and critically injured. The man who shot him was Mehmet Ali Agea. He was a member of a fascist group known as the Grey wolves. This man was immediately caught after shooting the Pope and he was put into prison. This is where John Paul II showed characteristics very few have, and this is one of the many reasons that we admire him. John Paul II visited the man prison that had shot him and he forgave him. They talked for hours and began to know each other. It's crazy to think that a man who just tried to kill him was instantly forgiven by him. It takes real courage, kindness, and the ability to forgive to be able to forgive a man for a crime such as that.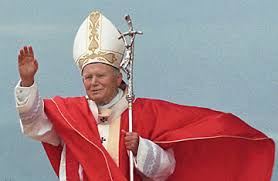 John Paul II had a main message during his papacy. He wanted the world to be at peace. He believed at the coming of the new millennium that people could stop fighting and that they could start anew. Well, that didn't go as planned. Only a year after the new millennium, the events of 9/11 occurred. The Pope responded to this by giving his profound sorrows, but he also made good points. He said that violence can never solve humanities' problems. He was able to see the bigger picture of what happened here. John Paul II died a holy death on April 2, 2005. He had been battling Parkinson's disease for more than a decade. He died with his final words being, "I have looked for you, now you have come to me and I thank you." John Paul was declared a saint on April 27, 2014 by Pope Francis. However, the process of being canonized began very soon after his death. It takes at least 5 years after a person dies to even be considered for sainthood. This waiting period is to ensure that the candidate has an enduring reputation of the faithful in the people's mind. The process must be waived by a pope and John Paul II was waived by Pope Benedict. After the five years have passed and the waiver has been granted, the bishop of the diocese can petition to begin the canonization process. The second phase of the process is being called a servant of God by the Vatican council and then the informative process begins. This process is when the religious institute or diocese gathers the private writings of the pope and they must be examined. This phase may take many years and they must show that the candidate has heroic virtues and his heroic virtues are shown in his writings. Then a Positio is made and it is a life summary and heroic virtues are prepared to be shown. This step must involve a miracle that has been proven to occur. John Paul II's miracle was when he healed Sister Marie Simon-Pierre. After a visit from him she was miraculously healed from Parkinson's disease. After the virtues have been reviewed by the pope then they are given the title of Venerable. Then before they can be called a saint another miracle must be confirmed to have happened before they died. Then it must be confirmed that the candidate was the reason that the miracle happened and no other person was praying to cause the miracle. After the first miracle is confirmed then the candidate is called blessed. Then a second miracle must be confirmed by the church to proceed with the canonization process. The second miracle confirmed for John Paul II did not occur while he was alive. This decision to include the miracle confirmed after John Paul II's death is different for the church and one of the first times that they have allowed this to occur. The second miracle involved Floribeth Mora. She was in Costa Rica and had deadly brain cancer. She prayed to John Paul II and was miraculously cured soon after hearing his voice. Then after the second miracle is proposed it must be confirmed to continue the process. The last step is to announce John Paul II to be a saint. He was declared a saint on September 30, 2013.

John Paul II lived a long, painful and fulfilling life. His faith inspired him to become a priest and dedicate his life to God. Then he survived an assassination attempt and was curing the sick even after death. He died a very holy death and his name will forever be remembered throughout history as Saint John Paul II. John Paul II was more than just an ordinary man. He was a man of faith and compassion. He believed in God and loved all people. He wanted to spread Christianity and give all people a chance to repent and come closer to God. John Paul II really does deserve to be a saint and called a hero. We call him our hero because he was not afraid to stand up for his faith under oppression. He tried to bring fun into religion by bringing his students on sky trips. He was a man who could proclaim the word of God in a fun yet constructive way. He was a man willing to forgive any crime. And with the coming of the new millennium he hoped that the world could find peace. He knew the difference between right and wrong and this man truly understood peace. Saint John Paul II was more than just a man he was, and continues to be, a hero to all mankind.
Page created on 1/28/2016 12:09:41 PM
Last edited 11/17/2018 4:22:35 PM