It is only fitting that this tribute to Laurel Burch be written. It is Women's History Month and International Women's Day is just a few short days away. Laurel is "MY HERO" and mentor and our Women's Mural Mile is dedicated to this incredible living angel. Artist Laurel Burch is NOT just an artist. Laurel is the epitome of a "Kindred Spirit", and this has been a trait exhibited throughout her entire life. Aside from the paintings, drawings, and products she creates, her written words warrant as much recognition as her paintings and drawings. I met Laurel through her work when I was a struggling young career woman. It seems that the earrings and art she produced many years ago had a special appeal to other "Kindred Spirits" because everyone that I knew at that time and since then, who possess the same hunger for peace and caring about the world and the people in it, seem to have been collectors of her work.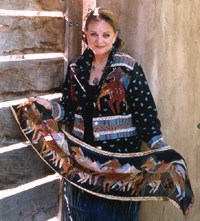 I didn't have the honor of meeting her when she was molding and sculpting and writing her masterpieces. I only know that, despite her early diagnosis of a rare bone disease, her loving heartstrings grew stronger than any violin or guitar string could ever be and became the essence of the spirit that embodies her continuing wish to see humanity live in peace among nature and with each other. Throughout the years, despite fighting a battle against a disease that continues to claim parts of her physical being, Laurel moves forward in what I will call her own archeological personal journey and creates sparkles of joy and happiness for the world to enjoy from her bed and her wheelchair. She began by visiting cultures and countries that led her to creating works that reflect the warmth and love that she gives freely from the depths of her soul. Everywhere she traveled yielded a mutual love story.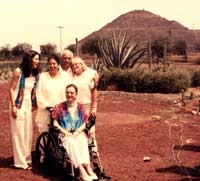 And that is how I finally "met" Laurel in the flesh. During the Balkan conflict, I worked with the Widows of Srebrenica (widows of 10,000 missing men and boys who became victims of genocide). Hours, days, weeks and months passed where I was surrounded by grieving desolate women, praying and wishing for the return of their fathers, brothers and sons. At times I would have to run away and go home just to reassure myself that, outside the remnants of war and burnt out buildings and homes with roofs blown away by bombs, a world of color and joy still existed. Through the tears of the widows and women, I had to find a way to renew my own strength if I were ever to be able to find ways to help them get on with their lives. It was during those visits home that I would buy armfuls of Laurel's scarves, greeting cards, bags--anything that would bring joy to the widows and their children. And it worked. The women began to look forward to receiving these messages and colors of kindred spirits. When I returned I wrote to Laurel to share my story and to thank her for pulling the widows through their darkest and most dreary moments; and that her work often brought a smile, or a flicker of a smile, to the eyes of these courageous women, who eventually had to face the truth about the disappearance of their men. Those fleeting moments, were worth it all to me and I told Laurel about them.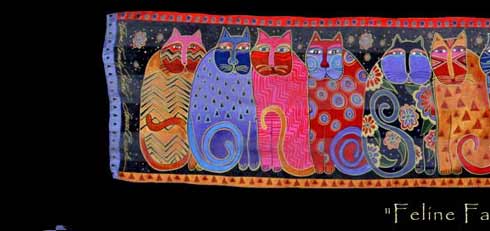 When Art Miles did our very first marathon at the Pyramids of Teotihuacan in Mexico (Sun and Moon), it seemed appropriate to invite and include the artist so famous for her renderings of glorious suns and moons, illustrating people and beings encircling them, hands together in harmony and in the vibrant shining colors so typical of her work. It was also there that I witnessed her frailty, when she arrived in her wheelchair and became desperately ill because of the altitude. But Laurel did not let on how ill she was until she simply could not get out of her bed and required doctors' attention.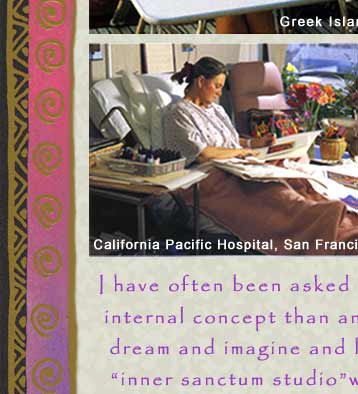 Throughout the years, as the Art Miles Mural Project has grown and literally exploded, I have remained in contact with Laurel, where I would often line up among her other thousands of fans during openings and signings. And in her wheelchair and from her bed she continued to produce more and more work, almost in a frenzied state of being, and managed somehow to give more and more of the remainder of her physical presence by teaching in special needs schools, helping raise money for them, and writing and developing a whole new language for illiterate pregnant women. She went on to develop projects from which the UN could model--and all despite living with excruciating pain, as she does to this very day.
When I get an email from her, I am humbled that she even has the time to think of me or our project and I find myself visualizing her, as did the Widows of Srebrenica, her blue eyes sparkling, her throat encircled with her own designs, and a smile on her face, disguising her pain, always sharing the love in her soul and her hopes for peace and love.
Page created on 2/12/2007 6:53:45 AM
Last edited 1/4/2017 9:48:50 PM