by
Nick Campbell from Juneau, Alaska
Martin Luther King Jr. was born in Atlanta on Sunset Adams Street in 1929. If he was still alive today, he would be 67 years old. He changed his name from Michael L. King. As a kid, he liked to fly kites, ride his bike and play baseball and football. He was also a paper boy. His mom taught him to read before he went to school. He read books about black people who were heroes, like George Washington Carver.
Jim Crow Laws were laws that separated blacks from whites. Martin's parents did not like segregation, which means keeping blacks and whites apart. They did not like that black people had to sit in the uncomfortable chairs and the white people had all the comfortable chairs. They did not like that there were lots of restaurants open for whites and hardly any open for blacks. They did not like that blacks had to use different drinking fountains from whites. They did not like that they had to pray without whites in church. They just wanted to be their friends. Blacks were cursed, chased, lynched and killed, just because of the color of their skin.
A white mom wouldn't let her son play with Martin Luther King Jr. because he was a different color. When blacks came into the stores, white people wouldn't answer their questions. Another person said to get out of the bus seat and Martin said it was not fair. Martin was having a hard time liking whites.
White people treated him well at Crozer College, but he was still angry. He wanted to be a minister, but before that, he wanted to be a professor. Martin thought he could do the same in America as Gandhi did with the Indians.
He married Coretta Scott in 1953. She thought the same way as he did.
On Dec. 1, 1955, Rosa Parks refused to give up her seat on a bus to a white person. It started a boycott of the buses by the black people. They didn't know if it would work, because no one else had tried it before. But the bus boycott worked. It took one year to change the rules.
Martin and Coretta had a baby girl in 1956. Martin Luther King Jr. was the president of the Montgomery Improvement Association. He believed that love, not violence, was the most powerful weapon, just like Gandhi believed. People were arrested when white people wouldn't serve them in 1960 and they wouldn't leave the restaurant. Martin and his friends were arrested when they weren't doing anything wrong. John F. Kennedy and Robert Kennedy helped get Martin out of jail when he was arrested. Martin told people not to obey unjust laws. Children marched in the Children's March in 1963. The police were too surprised to do anything. Police squirted people with hoses and they were bitten by dogs. People watched on TV and started thinking about black people's rights. White people came to hear Martin Luther King Jr.'s "I Have a Dream" speech in Washington, DC. Two girls were killed while changing into their choir robes when a church bomb exploded. People were beat up and killed over voting rights for black people. Martin was against the Vietnam War. He did not like violence. People were tired of marching. In 1968, people started to get violent and break windows. Martin was 39 when he was killed. He was bleeding a lot and people ran out. His wife wanted to stop the violence, just like Martin Luther King Jr. did.
Nick Campbell wrote this story.
Many visitors to the MY HERO web site have written about Martin Luther King.
he was a great man who stood up for what he believed in. He brought together to nations and helped us see things in someone else's eyes. He is such a great guy and will always be remembered in my life.

Paula P from somewhere in Kansas


My hero is Martin Luther King Jr., because he wanted equality for all people. I remember listening to him as young child and his words mesmerized me. I want my daughter to know who Martin was and what he stood for. Martin Luther is my hero and always will be.

Pamela Staples from Chicago

Martin Luther King Jr. took a stand against powerful people when no one else would. He kept trying once he was doubted and threatened. Martin Luther King Jr. got people around the world to look past "black" labeling and accept and love him. That is why Martin Luther King Jr. is my hero.


Dr. King is my hero because I believe he was one of the greatest liberals that ever walked this earth. I must have read his "I Have a Dream" speech hundreds of times and I still can't read it with dry eyes. What a giant!

Dirk Goes from Amsterdam, Holland

Dr. King is one of the few true American heroes. In an age where it has become fashionable to hero-bash--uncovering the nefarious backgrounds and destroying the myths of American heroes, like George Washington and John F. Kennedy--the name of Dr. King has remains unblemished, and justifiably so. Dr. King stood for what he believed, and was a man ahead of his time. In the face of adversity, he dedicated and sacrificed his life for the equality of all people. His dream, which many today still share, has continued to live on as his legacy. His adversaries took his life, but his heroic legacy will never die. "Free at last, free at last, thank God almighty we're free at last."
Rob Petrone from New York, New York

Because he was brave enough to preach his thoughts without fear. Some day I want to have enough courage and love to be able to do that.
Nancy Fluharty from Mariposa, California

*************************************

Share your thoughts about Martin Luther King Jr. Sign the MY HERO Guestbook.
Page created on 8/14/2014 11:42:17 PM
Last edited 1/15/2020 3:06:32 PM
Extra Info
January 15 is Martin Luther King Day.

You can make a contribution in honor of Martin Luther King, Jr.
To find out what you can do to carry on his work contact:


Martin Luther King Jr.
Center for Nonviolent Social Change
449 Auburn Ave. NE
Atlanta, Georgia 39312
(404) 524-1956.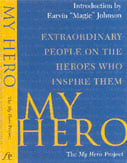 Congressman John Lewis writes about his hero, Martin Luther King, Jr., in My Hero: Extraordinary People on the Heroes Who Inspire Them.