Students 13 Years And Older Invited To Vote For MY HERO's People's Choice Winner
CONTACT: Wendy Milette FOR IMMEDIATE RELEASE
VOTE FOR THE WINNER – VIEW 6 SHORT FILMS ONLINE & CHOOSE THE WINNER OF THE MY HERO FLM FEST'S PEOPLE'S CHOICE AWARD
SANTA MONICA, CA – 10/10/16 –
The MY HERO Project is inviting middle and high school teachers, students

*

, and

after-school programs to help choose the winner of The MY HERO International Film Festival's People's Choice Award.
MY HERO's film festival staff has selected 6 inspiring short inspiring, hero-themed films & created an online ballot to engage students in critical analysis of the films and the issues behind them. Hopes are that students will be inspired by the process and start planning their own short films about the heroes in their world.
Let all voices be heard! Check out the People's Choice Ballot.
Voting begins Oct. 10th and continues through Nov. 10th.
Viewing time to watch all six films is under 40 minutes.
Be sure to watch all the films and vote for only one.
Here is a brief description of the six films in the ballot:
Waves for Water - Nepal Earthquake,

p

roduced by Hurley, directed by Aaron Flynn, is a film that shows one of many relief

efforts after the disasterous earthquake in Nepal.

Us & Us, by

Trey Carlisle, Cole Kawana, Sebastian Ko and Jordan Seibel, offers a look at dehumanization and the history of genocides through the eyes of a black teen.

Save Tomorrow, directed by

Lynne Cherry, is a short film that documents three 9-year-old girls who are concerned about climate change and feel that the adults have let them down.

The $1 Microscope, by

Michael Schwarz, introduces a device made from paper that promises to make microscopes as widely available as pencils.

Upstanders: The Kids Who Killed an Incinerator, by Howard Schultz and Rajiv Chandrasekaran for Starbucks, tells the story of a group of high school students who saved their neighborhood from a toxic incinerator.
John, directed by

Lara Firestone, is a trailer from a self-titled documentary about John Bramblitt, an artist who found a way to translate his sense of touch into his paintings, after losing his sight.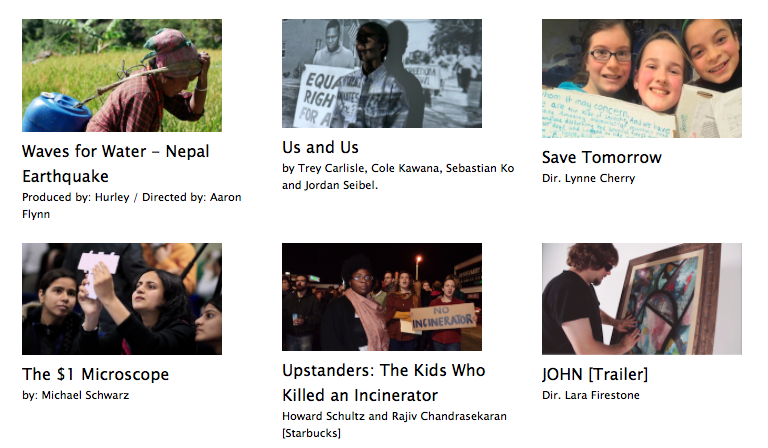 MY HERO's website (myhero.com) hosts the world's largest archive of hero themed stories, short films, music and art by students and others. MY HERO is a non-profit 501(c)(3) organization with a mission to share stories of people who are working to create positive change in the world.
The People's Choice Award winner will be announced at the festival's Awards Ceremony on November 19, 2016, at the Herb Alpert Educational Village in Santa Monica, CA. For more information, and to RSVP, visit www.myhero.com/rsvp.
Winning films become part of MY HERO's archives and are used as an educational resource. You can view some winning films from previous years at www.myhero.com/winners.
MY HERO invites people of all ages to share their work (
myhero.com/participate
) on MY HERO's award winning website www.myhero.com.
For more information, please email Festival Director Wendy Milette at
[email protected]
.
*
This ballot is geared for students in middle school, high school, and adults. If you are an elementary school teacher, then we suggest that you watch the films first and decide. We will be launching a "Kids Choice Ballot" on November 1st that will be geared to elementary school age children.
Page created on 10/13/2016 3:32:15 PM
Last edited 7/7/2017 11:53:06 PM