Rosa Parks
by
Cindy from Spokane
"I would like to be known as a person who is concerned about freedom and equality and justice and prosperity for all people"....said on her 77th birthday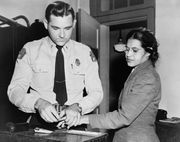 Dr. Martin Luther King, Jr. stated that, "Mrs. Parks was regarded as one of the finest citizens of Montgomery - not one of the finest Negro citizens, but one of the finest citizens of Montgomery." This is one reason she is my hero. The other reason is because she stood up for her people and for what she believed in. During a time of segregation, where black and white citizens couldn't even share the same seats on the city bus, and blacks were demoralized because of their skin color, Rosa Parks put her foot down, or rather, kept sitting down. She refused to give up her bus seat to a white man. This action caused her to be arrested, but it also started the Montgomery Bus Boycott; which was one of the largest movements against racial segregation. When her fellow African-American citizens found out what had happened, they struck a boycott against the city bus system. This boycott lasted for 382 days. Many public buses sat idle for many months, causing sever damage to the bus company's finances. The boycott finally led to the law requiring that segregation on public buses to be lifted. Rosa's actions became a lasting legacy worldwide.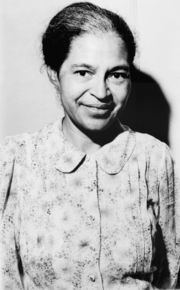 Rosa Parks suffered hardships as a result of her actions. She was dismissed from her job, and her husband quit his, because he was not allowed to talk about her at work. They moved to Virginia where she worked as a seamstress until 1965. That is when African-American U.S. Representative John Conyers hired her as a secretary and receptionist for his congressional office in Detroit. She stayed at this job until she retired in 1988. Then when she passed away in 2005, the city officials in Montgomery and Detroit announced that the front seats of their city buses would be reserved with black ribbons in honor of Parks. And at her memorial service Secretary of State, Condoleeza Rice, said that if it had not been for Rosa Parks, she would probably have never become the Secretary of State. Rosa Parks was an African American civil rights activist who made a big difference in so many lives.
Page created on 11/29/2007 12:00:00 AM
Last edited 11/29/2007 12:00:00 AM
The beliefs, viewpoints and opinions expressed in this hero submission on the website are those of the author and do not necessarily reflect the beliefs, viewpoints and opinions of The MY HERO Project and its staff.