Meet sixteen year old Madeleine Wilkie from the UK.
" I have one brother Oliver and my parents are both teachers of art and design in secondary schools. We live in Woolstone in Milton Keynes and have an old house in France, which my parents have been trying to renovate for what seems like my whole life! Dance is one of my passions, I take both Ballet and Jazz classes and love doing them. I also enjoy the visual arts generally, Biology and textiles. We have two young horses, Jack and Halle. They have not been broken for riding yet, but when they are in the summer, I am hoping to start riding them. I am quite shy, but I have lots of friends and I enjoy spending time with them, going to parties etc. I used to spend quite a lot of time with my Nanny who I was very close to, but unfortunately she died last year. My goals in life are to continue my education at university, probably studying some aspect of art or design, to travel the world and to meet as many different people as I can, to have an impact on other people, at least one person anyway!"
Madeleine, known to her friends as Maddie is already achieving one of her goals to impact another human being, by participating in a school program that invites students from Africa and England to trade places.
"The Tanzania Exchange is a partnership between Stantonbury Campus and two schools (Iringa Girls School and the Tosamaganga Secondary School for Boys) in Iringa, Tanzania. The aim of the program is to give students from very different cultures the chance to share their experiences and work together on mutually beneficial projects. The Stantonbury students will visit Tanzania and the Tanzanian students will be hosted by the Stantonbury students. The Stantonbury students will be fund raising over the next two years to finance the exchange for both partner schools. It is a huge commitment on the part of the Stantonbury students and their families in terms of time and effort."
Maddie got "keen" on the idea to sign up after learning about it from school staff members and those who had experienced it first hand. She expects it to be life changing and well worth the effort involved to support it. She expects it to be powerful.
"Students that I know that have been involved in this project before have been deeply affected by the experience, They have had the chance to gain an insight into a contrasting culture through first hand experience. Their global awareness has been developed, although we learn about other cultures in school, it's much more powerful in terms of developing an understanding to go and see it. They have learned alot about themselves through the experience, and their values have been challenged by what they have seen. Their confidence has grown, and they have demonstrated the ability to adapt to a very different lifestyle."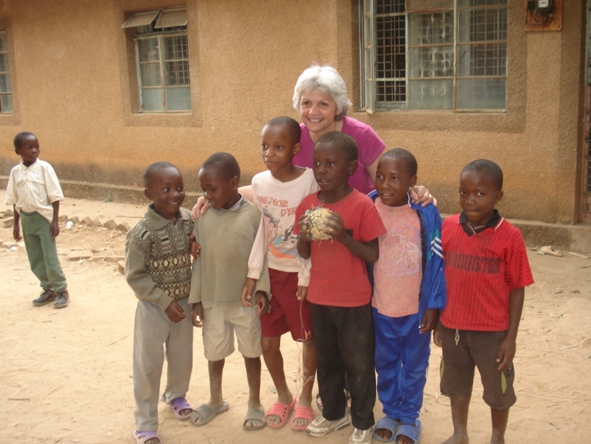 "I have participated in several fundraising events so far and have been involved in a residential stay; this was a team building exercise which gave the group a chance to bond and build relationships in preparation for our four week visit where we will be relying on each other for support in what might be quite challenging circumstances." "Raising the money is a big challenge, also preparing myself for seeing people that are so much less well off than me and who have such a contrasting life in comparison to mine in maybe not such a good way. The time commitment will also be quite a challenge for me when I return to school as I'll be juggling school work, dance classes, my social life and the exchange. I may have to make some sacrifices to cope with everything."
As far as challenges go, children in Tanzania have their own hurdles to jump through to even gain access to the privilege of getting to school at all. The government run schools are too costly for many families. Hardships involve great distance. Scores of students must walk miles and miles to even get to school. Those are just two of a host of issues that make education still a luxury for perhaps half the child population in Tanzania. Those fortunate enough to become part of this exchange will trade places and move awareness one step further to an equal education for everyone, all around the world.
"It's an important small step and more schools should get involved in such projects to create greater global awareness and understanding. This could be the key to creating more equality in the world."
Not to forget the personal shift in awareness that Maddie looks forward to with great enthusiasm.
"I think that the experience of the Tanzania Exchange will change me as a person. I think it will make me see things in a different way, and although I don't know how I will feel, I'm sure that the effect will be powerful. I hope that I can contribute something positive to the Tanzanian students that I will meet. I think my ability to empathize will be developed further with this experience."
And so it is through experience that Maddie Wilkie sees the power of change and the expansion of personal and ultimately global awareness. She is to be commended for her desire and willingness to give full presence to this. Equally remarkable are the Stantonbury Campus program founders and staff leaders behind this extraordinary gateway. And as they persevere to reach for the goals to raise funding, to raise awareness and bring hope to children far away, one more hero is raised from the ground up.. In Maddie's own words.
"A hero to me is an icon, someone to admire and look up to. For someone to be regarded as a hero, they must have done something that has had a positive impact on other people. I think it is more than talent. It is something that changes people's lives for the better, either through their actions or their beliefs, for example Nelson Mandela. The characteristics I would tell other students to look for would be enthusiasm or passion, commitment, honesty, loyalty and determination. Optimism is also an important quality."
Page created on 7/30/2009 12:00:00 AM
Last edited 1/5/2017 7:03:19 PM
Related Links
Send my Friend to School
- Send My Friend to School brings together thousands of children across the UK to speak up for the right to education, and remind world leaders of their promise that all children should get the chance to go to school.
Global Campaign for Education
- The Global Campaign for Education (GCE) is a civil society movement that aims to end the global education crisis. Education is a basic human right, and our mission is to make sure that governments act now to deliver the right of everyone to a free, qualit