"It's great to know you've made a difference and things are going to change because of what you've done."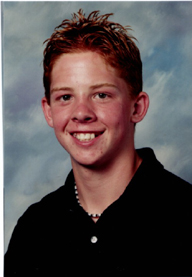 Brandon Keefe
In 1993, 8-year-old Brandon Keefe sat in a corner at the Hollygrove Children's Home, waiting for his mother to finish talking. He was bored, playing his Game Boy, but half-listening, and so he heard that Hollygrove Home needed a library but didn't have any resources. All they had was an empty space and lots of kids without books.
The next day, when Brandon's teacher asked the students to come up with ideas for a community service project, Brandon recalled his mother's conversation at the Hollygrove Home. There was a problem that needed to be solved. An idea occurred to him at once. What about all the books he had read and outgrown? He had many that he was too old for, and knew his friends had some too. What if they gave them to Hollygrove to create a library?
Brandon Keefe reading to students.
Brandon initiated a book drive, and soon he had 847 books spread out on his bedroom floor. An organization of retired librarians volunteered to catalogue them. A Rotary Club donated shelves, tables and chairs. The big empty room at Hollygrove was filled, and every orphan had a book to take to bed at night.
When Brandon entered 7th grade at Chaminade Middle School, he again suggested a book drive for a community service project. He got his friends involved and they spread the word with posters and announcements at school, and flyers attached to paper bags ready to be filled. In one week, the school collected 5,000 books. The orphanage library couldn't handle them all, so where were they to go?
A local public school, Limerick Elementary, had pine cones instead of books on their library shelves. They became the next new library created by Brandon and his friends. The principal realized that Brandon's idea was so simple and effective, that she began sharing it throughout the Los Angeles school district.
Brandon was surprised when, one day, a photographer from the Los Angeles Times called him out of class. He was featured in the newspaper, which led to some local community service awards. Then he was invited to appear on "Oprah."
"I was with these other kids who were doing amazing things," Brandon says of the experience. "One kid took a bullet for a friend, another kid had organized a huge anti-tobacco lobbying campaign. A third, Craig Kielburger, started an international organization to make schools in third world countries and had met almost every major world leader there is, and written a book by the age of 18. How did I get in this group? I just collected books. I felt really humbled."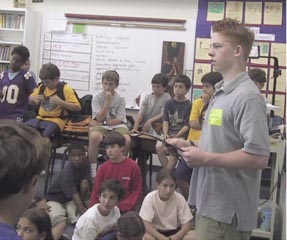 Brandon Keefe from BookEnds with 4th graders who organized a book drive at the Center For Early Education.
Then came more articles, awards and guest spots on TV talk shows. "Because of the media attention, people started calling, asking how to run a book drive, donating money. Being on 'Oprah' gave us credibility for setting up a non-profit organization, BookEnds. Corporations gave us donations to buy books that we couldn't collect, the ones everybody wants that don't get given away as much. And we could take it all to the next level."
Brandon's mother, Robin, had been involved from the beginning. She set up the Advisory Board for BookEnds, and now watches over its growth. "We felt blessed from the get-go," says Robin, "and we keep finding more angels to help. For every dollar donated to BookEnds, we can put six dollars worth of books on barren shelves."
By 2001, the 60,000 volunteers had collected around 150,000 volumes for BookEnds. They had completed 46 libraries, with 32 more under development. They estimate that they have helped more than 40,000 children who didn't have books before. Brandon explains, "These libraries are in schools, youth organizations, after-school clubs, anywhere there's a system already in place where the books will be used. It wouldn't be good to have the campaign and collect the books only to have them sit in boxes."
Brandon and BookEnds help others start their own book drive. "I tell them what we've done that works, show them the video my friends and I made, and try to get them worked up. Some kids get really creative and make huge banners, have big assemblies with skits and things, or have a bake sale. One group even set up a school snack shop."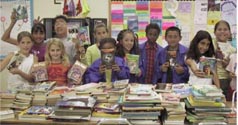 Recipient and donor kids sorting books for teachers at the recipient school in Los Angeles.
"I used to hate reading," Brandon remembers, "but then I'd see the faces of people when we were giving them boxes of books. People would go nuts, like we were bringing ice cream." He adds: "I read a lot now."
A BookEnds Web site was created and maintained by Brandon and his friends. It's not unusual for a group of them to sit around Brandon's kitchen table helping get out the latest mailing or doing whatever Robin needs to make BookEnds work.
Brandon says, "My heroes are the ones who understand there's a need and really take action to eradicate the problem instead of just sitting back and thinking about it. It's one thing to put a quarter in a box for Africa and another to deliver something to someone in need."
When asked what advice he would give to other young people who want to turn their ideas into action, Brandon answered "Ask your friends, teachers, anyone who you think can help. Whatever you can do can make a difference. Even if you just get people thinking about changing, about fixing a problem, at least they're acknowledging the problem is there. Try it. See what happens."
As Brandon gets close to finishing high school, he feels especially good that BookEnds is growing.
"There are 60,000 people involved and I'm just one of them. It's great to know you've made a difference and things are going to change because of what you've done."
Page created on 4/22/2015 7:23:41 PM
Last edited 1/4/2017 11:13:47 PM