Abraham Lincoln
by Luis from Victorville
Abraham Lincoln was a great person. His home state is Illinois. He became a president. He also freed the slaves. He died by assassination.
Abraham Lincoln was the 16th President of the United States of America from March 1861 until his assassination in April 1865. He was the tallest U.S president at 6ft 4 inches. He was born February 12, 1809 and died April 15, 1865 at age 56. Even though he was strong, a talented wrestler, and proficient with an axe, Lincoln disliked killing and harming animals, even for food. During his lifetime he became a country lawyer, an Illinois state legislator, and a one-term member of the United States House of Representatives. As a result, he secured the Republican nomination and was elected president in 1860. He was the first president to be assassinated. He was assassinated. He made the Emancipation Proclamation. This was a proclamation to free slaves.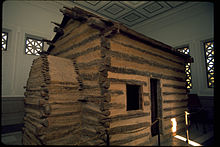 Abraham Lincoln lived in a log cabin with only one room. He was the second child to Thomas Lincoln and Nancy Lincoln. When Abraham Lincoln was nine, his 34-year-old mother died of milk sickness. His older sister, Sarah, died while giving birth at a young age. He married Mary Todd Lincoln. Abraham had four children, Robert Todd Lincoln, Edward Lincoln, Willie Lincoln, Tad Lincoln. Only Robert Todd Lincoln survived into adulthood.
Abraham Lincoln was a good person. Unfortunately he was assassinated. His assassin was John Wilkes Booth. He was assassinated on April 14, 1865. He was assassinated in Ford's Theatre, in Washington, D.C..
Page created on 7/11/2011 12:00:00 AM
Last edited 7/11/2011 12:00:00 AM