by
Katherine

from

Boulder, Colorado in United States

Should've, Would've, Could've. My dad used to say it almost every day to me when I was younger, and I never thought much about it until now. I used to think it was a silly saying. But now I know it means so much more.

Rock Climber, Nature Lover, and Explorer are just a few words that describe my dad, Paul Gagner. My dad is skilled in many things, but his best area of expertise is the outdoors, more specifically rock climbing. As a child, I grew up hiking, camping, and scrambling around on rocks with him, spreading his love for the outdoors with me. He has now been climbing for almost 43 years, and his passion hasn't died one bit.

My dad grew up in San Jose, California. As a young child, he went on many hiking and camping trips with his mom, dad, and brother, opening his eyes to the wilderness at a young age, and once high school hit, his passion only grew for climbing. Both he and his brother signed up for climbing classes, and he immediately fell in love with the rocks, beginning to complete more experienced climbs instead of just scrambling around now. Since those years, he has summitted many mountains and done many new routes no one has done before. One of the most popular ones is El Capitan, which he has summitted multiple times now.

My dad is a hero to me because of how much of an inspiring person he is. Not only is he incredibly persistent, but he gives perspective to do what you love, and if you don't love what you're doing, then you're the only one who can get up and change it for yourself. I think this is really inspirational, and a mindset that many more people should have. The number of times my dad has fallen climbing, or failed to summit a mountain or complete a route are almost as many as the number of times he has summitted that mountain for the first time, or completed that never-before done route. I remember one time when he fell free-climbing and broke his foot, but that never stopped him from doing what he loved doing the most, and here he is today, still persisting on and climbing just as much as he did years ago. I really aspire to have confidence, persistence, and love for everything I do, just like him. Which is why out of all my options, I chose him as My Hero Project.

Of course my dad isn't someone I just see on TV or in magazines and look up to them like someone famous. He's someone I am blessed to see more often than that, and even though my parents are divorced, and time has thus been cut on how often we see each other, it's always such a treat, and a fun time, to see him when I can. Growing up, my family would go hiking, camping, and sometimes even on small climbing trips out in the outdoors, making my experience in the outdoors start off at a young age, and helping pass my dad's family traditions out in nature down to ours. I am so grateful for these times and all the memories made. My dad has also recently been featured on a podcast by 'The Firn Line' called 'The Lifer: Paul Gagner'. I think this is very cool that he accepted this amazing opportunity to not just share about his life and everything he's done, but to also inspire people and show people what they really can do if they put their minds toward things, and do what they love.

My dad now lives in Khanab, Utah, where he is continuing his passion for rock climbing and love for those desert rocks. He is truly doing what he loves, and making sure that he makes the most out of his life. So many people these days are dying with the wish that they could have done more, and regretting not taking that control over their life to do what they really love, and that is really sad, but it is nice to think that my dad will have all those memories to look back on not thinking about what he should've, would've or could've done, but what he did do.

Thank you for inspiring me, and so many other people, Dad.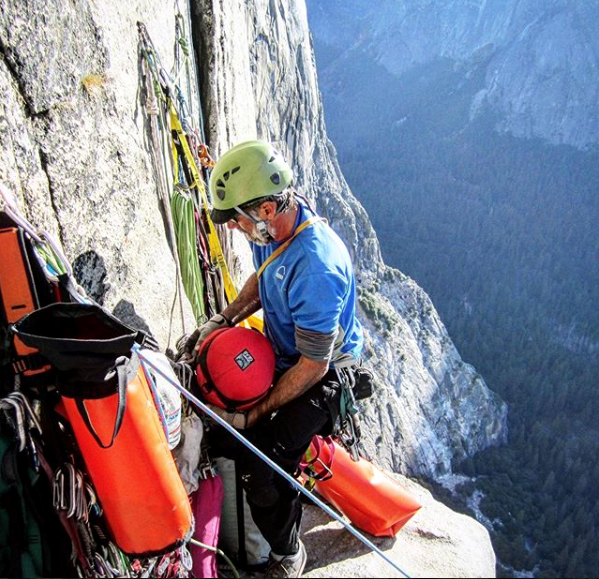 My dad, Paul Gagner - Climbing@clmbrlifr - Instagram
Page created on 3/1/2020 11:16:30 PM
Last edited 6/19/2020 6:00:07 AM