MY HERO Website Exploration: Find the Word That Doesn't Belong
by Jerrilyn Jacobs, Taft High School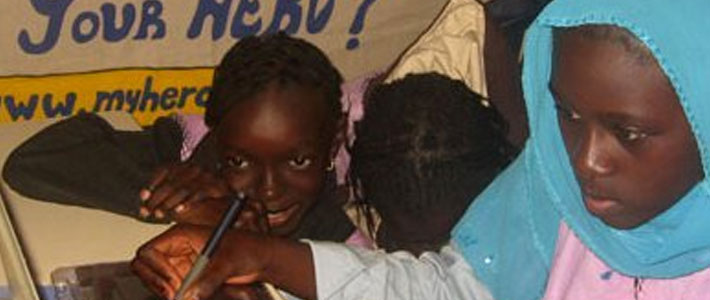 Grade Level
K-4
Subject
English/Language Arts, ESL/EFL
Overview
MY HERO's rich databank of hero stories offers content for many word games. The following is a suggestion to get you started. Let us know of others you use, so we can pass on the ideas.
Objectives:
Increase word skills.
Procedure
Step One:
Teacher chooses a MY HERO story and reads the MY HERO story out loud, discussing it to assure comprehension.
Step Two:
Teacher chooses four words from a MY HERO story where three words have something in common, and the fourth is different (e.g., three words describe an object, one word describes an action, or three words are names and one word is not, etc.).
Teacher writes these words on cards and scrambles them.
Step Three:
Students choose the card with the word that doesn't belong with the others, the word that is somehow different. They explain their choice.
Step Four:
Teacher reinforces the correct choice with a complete explanation of why the word doesn't belong in the group. She puts the mismatched word aside.
Assessment
1. Unsatisfactory: Students do not complete the word study.
2. Satisfactory:
Students adequately complete the word study.
3. Exceptional: Students complete the word study exceptionally.