Finding Heroes in Fine Art
by Jerrilyn Jacobs , Taft High School (Woodland Hills, CA)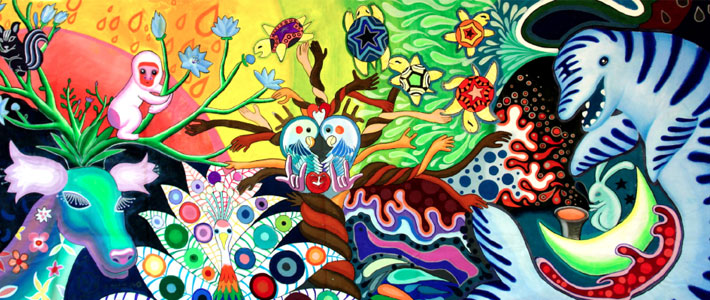 Grade Level
5-8, 9-12+
Subject
Arts - Visual, English/Language Arts
Overview
Overview/Purpose:

Students will search Internet sites for pictures of heroes and heroic action, sharing what they find for a class discussion on how heroes have been portrayed throughout time.

Objectives:


Students will identify what kind of characters and actions or situations would qualify as heroic.
Students will use Internet skills to find images of heroes and heroic action.
Through oral and written expression, students will share their thoughts about how art portrays heroes.
Procedure
Activities and Procedures:

Step One: How do you recognize a hero by looking at him or her?

As a class, discuss characteristics of a hero and how these characteristics are visible in ACTION. What other visual element, other than the hero, needs to be in the picture if we are to understand that the person is a hero? What heroes would we recognize, without any supporting visual information, because their image alone reminds us of their heroic action? They almost represent some heroic action, such as Gandhi spinning wool as a symbol of peaceful resistance and home rule.


Log on to the MY HERO Website, www.myhero.com, and identify heroes who might be the subject of artwork. Look at images that accompany hero stories for any visual heroic action.
The teacher can limit the media to fine arts, or include all forms of two-dimensional art.
Sculpture can be included, or have its own lesson.
Individual students should brainstorm additional heroes they think will be found in art.
Step Two: The Search is On

Have students search for images of heroic action using Internet search engines such as Google or other public domain sites such as:
Public Domain and Photographic Images Links
Educscapes
Images
PD Photo.org
US Federal Government Public Domain Images
Corbis Royalty-Free Stock Photos
Have students record the name and URL of every art site they visited to be turned in for part of their grade.

When a heroic image is found, print a copy and include credits to identify the artist, name of the image, and Website. On the back of each image, the student writes a brief analysis of what is happening in the picture and why the character's actions can be considered heroic.

Step Three: Show and Tell

Students present their images to the class and read what they have written. The class responds with comments and questions.
Assessment
Students will turn in and be graded on the list of art Websites they visited, and the images they copied. You may set a minimum number of images as a requirement. The grade will also include analysis of the student's writing for content and conforming to the conventions of usage, and 1, 2, 3 rubric can be created with the class to self-grade their participation.
Standards
ISTE NETS Standards - Students
6a
Technology Operations and Concepts: Understand and use technology systems.
1a
Creativity and Innovation: Apply existing knowledge to generate new ideas, products, or processes.
2a
Communication and Collaboration: Interact, collaborate, and publish with peers, experts, or others employing a variety of digital environments and media.
2c
Communication and Collaboration: Develop cultural understanding and global awareness by engaging with learners of other cultures.
ISTE NETS Standards - Teachers
3b
Model Digital Age Work and Learning: Collaborate with students, peers, parents, and community members using digital tools and resources to support student success and innovation.
3c
Model Digital Age Work and Learning: Communicate relevant information and ideas effectively to students, parents, and peers using a variety of digital age media and formats.
5b
Engage in Professional Growth and Leadership: Exhibit leadership by demonstrating a vision of technology infusion, participating in shared decision making and community building, and developing the leadership and technology skills of others.
Common Core English - Reading K-5
3
Key Ideas and details: Analyze how and why individuals, events, and ideas develop and interact over the course of a text.
7
Integration of Knowledge and Ideas: Integrate and evaluate content presented in diverse media and formats, including visually and quantitatively, as well as in words.
Common Core English - Writing K-5
8
Research to Build and Present Knowledge: Gather relevant information from multiple print and digital sources, assess the credibility and accuracy of each source, and integrate the information while avoiding plagiarism.
Common Core English - Writing 6-12
9
Research to Build and Present Knowledge: Draw evidence from literary or informational texts to support analysis, reflection, and research.
Common Core English - Language 6-12
1
Conventions of Standard english: Demonstrate command of the conventions of standard English grammar and usage when writing or speaking.
2
Conventions of Standard english: Demonstrate command of the conventions of standard English capitalization, punctuation, and spelling when writing.