Celebrate Heroism -After School Program Evaluation
by Emma Olsen from Laguna Beach CA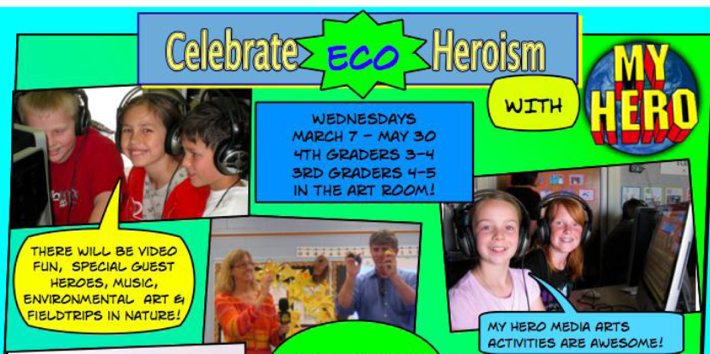 Grade Level
K-4, 5-8
Subject
English/Language Arts, Social Studies
Overview
Celebrate ECO-Heroism
Evaluation Report
Prepared by Emma Olson for The MY HERO Project 06/15/12


Summary
NUMBERS SERVED:*

- Approximately 50 Children Age 8-11 participated in a 12 week program
- 24 Seniors participated in at least one event
- 4 B/G Club Teachers and Susi Q Facilitators benefited from professional development
- Approximately 30 Family Members attended a final exhibition
- An estimated 350 Community Members will be audience members at the Local Hero Fest or view children's work at the Laguna Beach Public Library

(*Note that not every child participated for the full 12 weeks and that the number of individuals worldwide who see participants' work online is not factored in.)

PROGRAM RESULTS:
Celebrate Heroism was an effective program on multiple levels. It increased students' and seniors' technological skills and knowledge, introduced them to free resources they can access from anywhere (with internet), entertained all participants, and imparted valuable lessons in terms of character education and environmental stewardship. Beyond achieving initial objectives, the program also helped to build community resources and partnerships within the City of Laguna Beach and beyond.
Procedure
Boys and Girls Club Program

- Format: The program was broken into 13 units- 1 hour per week per class (2 classes) for 12 weeks and a final screening (See Index for Full Schedule).

- Content included the following units: MY HERO Project, Nature Photography, Fieldtrip to Crystal Cove State Park, Celebrate the Ocean, Disaster Preparedness, Eco Heroes and Portraits, Quick Science, Mural Painting, Fieldtrip to Laguna Canyon, Earth Stewardship and Understanding, Celebrate the Earth, Art and Media Presentations, Parent Exhibition.

- Special Guests included: Ranger Winter of Crystal Cove State Park, Barbara MacGillivray of One World One Ocean, Nikki Atkinson from the LBPD, Ryan Ashton from the Quiksilver Foundation, artists September McGee and Robin Altman, naturalists James Dilley and Laura Cohen.

- Activities included: Viewing inspirational films; learning camera and photography basics; making photo montages and short films using iMovie; creating comic strips with Comic Life; Claymation; making posters; interviewing heroes; nature photography and drawing; film production; recording a song as a class; and compiling audio tracks individually using Garage Band.



Standards
1.
Key Ideas and details: Read closely to determine what the text says explicitly and to make logical inferences from it; cite specific textual evidence when writing or speaking to support conclusions drawn from the text.