USING MY HERO AUDIO STORIES FOR ESL
by victoria murphy of MY HERO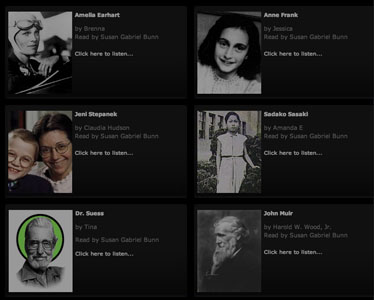 Grade Level
K-4, 5-8, 9-12+
Subject
ESL/EFL
Overview
MY HERO has an extensive library of stories written by professionals and students from around the world. To support ESL learning and those who are visually impaired MY HERO has created an audio archive of SELECTED MY HERO stories that students can listen to and read at the same time.
Procedure
Students can listen to MY HERO stories and demonstrate their English language acquisition skills by reading paragraphs out loud and then answering questions for comprehension.
Students should be encouraged to create and share their own essays, art, music or short films with our global learning community. MY HERO provides digital story telling tools for students of all ages to publish their inspiring hero stories online.
http://myhero.com/Start
Assessment
Students can share their work with their peers and their families.
Teachers can create an index of all of their students published work on MY HERO using the ORGANIZER tool.
A quiz about selected heroes can help teachers assess the success of the project.