My hero: Lee Myung-Bak, who saved Seoul
What is a hero? The answer to this question may vary according to the criteria which each person has, the situation in which the judgment is made, and other factors. Even though there are some variables which might affect a final decision, we cannot deny that there are some characteristics which heroes have in common. In this sense, I do not hesitate to choose Lee Myung-Bak, the former Mayor of Seoul, as a hero. Mayor Lee is a hero for three reasons: he has his own perspective, he has played an important role as a catalyst for change, and he has lived a life worthy of imitation.
In 1941, Lee Myung-Bak was born into a poor family at Pohang, one of the small fishing villages in South Korea. During his childhood, he was so poor that he always had to drink water at school to cope with the hunger, while other kids ate their lunch. However, he did not give himself up to despair. Instead, he dreamed of being a respectable and valuable person to society. He worked his way through high school and the university, doing anything he could in order to pay the tuition, such as selling fruits on the street after school and sweeping the streets in the early morning. In this sense, he is an exemplary self-made man. He became famous for his success as the CEO of Hyundai Engineering & Construction Co. Ltd., one of the largest companies in South Korea. Furthermore, as the Mayor of Seoul, he was well known for his innovative policy initiatives in various fields; under his visionary leadership, for example, a four-mile elevated highway that once covered the Cheonggyecheon Stream in the city center was replaced with a riverfront park, high quality walkways, and public squares.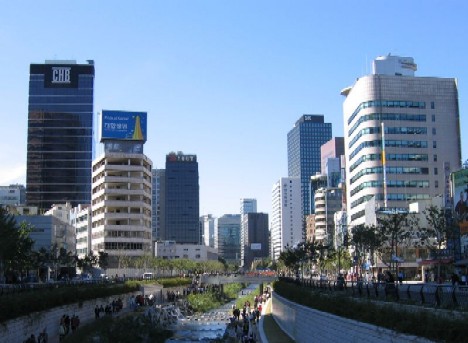 First of all, his original perspective is one of the most important reasons that Mayor Lee is a hero. No one can be a hero if he just follows others' opinions all the time and does nothing differently from ordinary people. Miriam Polster (2001) writes about this trait of a hero in the article, "Eve's Daughters." The author says, "The hero has an original perspective that distinguishes her from others who settle for agreement and conformity or are too beaten down to ask necessary questions." In other words, a hero should not just accept or comply with given conditions like other people. Instead, he should cast constant doubts on an established situation with his own point of view and keep on pressing the issue without being forced into submission until it is solved.
In light of this criterion, Mayor Lee is a hero because he has his own clear-cut viewpoint. Soon after becoming the Mayor of Seoul, he announced one of his new ambitious projects, named "Green Seoul Project." The major points were to develop a lot of forest on unoccupied lands and make big or small parks on abandoned lots. This work involved an example project to remodel the huge intersection in front of Seoul City Hall into a lawn park. However, a considerable number of people, including traffic engineers, urban planners, and even environmentalists doubted the possibility of its success at first. Thus, some of them explicitly opposed the project, insisting that it was too early and time and money consuming to put the plan into practice. In spite of popular sentiment, Mayor Lee did not give up his plan and began to persuade them to understand his perspective. He realized that emphasizing the environment first would be more beneficial in the long run than just speeding up development. Bryan Walsh (2006) cites Mayor Lee's remarks in the article, "Saving Seoul," posted on Time Magazine, Asian version website on May 8th:
"When the Korean economy was just trying to get back on its feet after the war, having these parks was a luxury. But now we try to achieve a balance between function and the environment, and whenever we have to choose, we try to put the environment first."
That is to say, Mayor Lee thought Korea now should consider the environment as well as development works because the country had already overcome the past poverty. Furthermore, he suggested that Korea make concerted efforts to give priority to the environment as much as possible. This shows that he has a keen insight to look ahead to what will happen and to decide what we should do now to prepare for it. Consequently, he is qualified for being a hero because of this distinct perspective. This trait of a hero seems to have much to do with another one: the ability to promote change.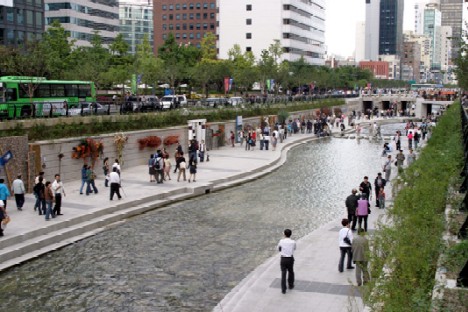 The second reason that Lee Myung-Bak is a hero is his ability to create positive change. A genuine hero should be able to make a significant change for people and the world. Ted Tollefson (1993) describes a vision for change as one of the characteristics of a hero in the article, "Is a Hero Really Nothing but a Sandwich?" Tollefson says, "Heroes are catalysts for change. They have a vision from the mountaintop. They have the skill and the charm to move the masses. They create new possibilities." In other words, heroes are the people who cause change with a higher and wider perspective than ordinary people. In addition, they have the ability and power to please or attract people and generate new opportunities. In fact, it is very difficult to regard a person as a hero without considering his power to take control of an undesirable situation and achieve new meaningful outcomes.
Lee Myung-Bak, who made a Seoul citizen's long-cherished dream come true, is a person that has the ability to make a striking change. Declaring his candidacy for the Mayor of Seoul, he promised to restore the Cheonggycheon Stream during his term of office. Even though most of Seoul's citizens admitted that the stream should be recovered sometime, they hardly believed it would be possible in a short time because the stream had been considered for a long time as a nearly-abandoned one in the center of the city, covered with paved roads. Furthermore, there were lots of obstacles in the process of restoring it: difficulties in the traffic management during construction, enormous financial demand for compensation, and the complexity of the process of drawing agreements with various parties concerned. However, he produced a miraculous result, coping with a difficult situation; finally, the stream has been given a new birth. Byron Walsh (2006) introduces a Seoul citizen's impression of this unbelievable change: "The area was so polluted before. I never thought it would turn out this well." Now, the stream has become a new landmark of Seoul and a symbol of successful urban planning and management in a megalopolis throughout the world. Most Koreans think that the success of this project would have been impossible without Mayor Lee. As Tollefson says, the ability to motivate people to do what they eagerly desire is one of the most important characteristics of heroes. Therefore, Mayor Lee compares with other heroes in terms of his ability to produce a meaningful change.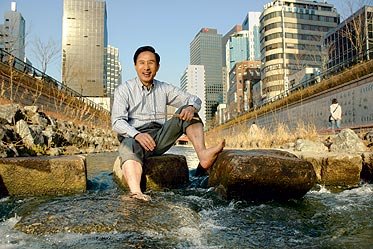 Last, but not least, there is also another basic characteristic that makes Lee Myung-Bak a hero: he has lived a life worth following. One of the important reasons that the biographies of heroes are recommended to us, especially to the youth, is that we can learn a lesson from them about how to live. Tollefson (1993) indicates, "Those who imitate a genuine hero, experience life with new depth, zest, and meaning." This means that we can benefit and feel the sense of achievement by following a hero's life. Ray Browne (1990) also writes about this point in the article, "Contemporary Heroes and Heroines." Browne says, "...thousands of other heroes and heroines in our midst today are in their individual and usually unheralded ways, willingly or unwillingly, achieving heroic status and providing us with models of philosophy, behavior and actions that we want to emulate." In other words, contemporary heroes are the people whom we want to imitate in many ways such as their way of thinking and manner of living.
From this point of view, Mayor Lee is a typical role model for youths who are dreaming of success in their lives. A news story appearing in the Electric New Paper on September 30, 2005 depicts Mayor Lee's dramatic life history. It says that a poor young student in Seoul, after putting himself through college and making a career in business and politics, finally became the Mayor of the city and was ready to clean the city again. This success story of his has encouraged lots of unfortunate youths in Korea to screw up their courage and to do their best in life. In addition, this has also played an important role as a strong impetus for a large number of young students dreaming of success in life. Furthermore, Mayor Lee was selected as one of the 50 Leaders Contributing to National Development by Daily Chosun in 1998 and Personality of the Year 2005 by fDi Magazine, affiliate magazine of the Financial Times in 2005. All these facts show that he has already been regarded as an excellent role model. Thus, Mayor Lee has another reason to be regarded as a hero, which is that his life is worth imitating.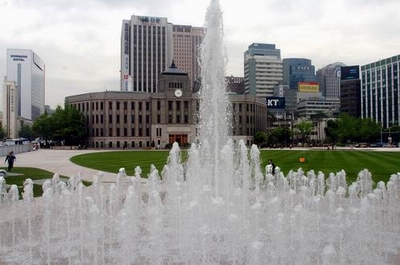 In conclusion, in view of the characteristics which heroes have in common, Lee Myung-Bak, the former Mayor of Seoul, is qualified to be called a hero. He had such an original viewpoint that he was able to answer, "Yes," while everybody said, "No," in many policy-making decisions. In addition, as we can see in the case of the Cheonggyecheon Stream restoration, he was willing to play a role as a catalyst for change and actually made a significant change. As a result, many Korean youths consider Mayor Lee as a role model in their lives. An English proverb says, "A hero is a man who is afraid to run away." This seems to be the case for Mayor Lee. He has steadily advanced toward his goals instead of being reluctant to take up his duty. With his ability to change "impossible" tasks into "possible" ones and with his outstanding achievements, he is now regarded as a strong contender for the next presidency in his country. It would be interesting and also instructive to watch whether a hero, who already saved Seoul, will save the South Korea of the future.
Extra Info
References Browne, R. (1990). Contemporary Heroes and Heroines in Sourcework (N. Dollahite and J. Huan). 160-162. Boston: Houghton Mifflin Company. Polster, M. (2001). Eve's Daughters in Sourcework (N. Dollahite and J. Huan). 162-163. Boston: Houghton Mifflin Company. Tollefson, T. (1993). Is a Hero Really Nothing but a Sandwich? in Sourcework (N. Dollahite and J. Huan). 163-165. Boston: Houghton Mifflin Company.