The journey to becoming famous is not easy at all. Such a path really takes a hero and amazing courage. There are many challenges that face those on their way to becoming famous. However, Ray Charles didn't just become famous. He influenced so many others to work hard, be successful, encouraged people to make a difference and to try hard to achieve their goals. Life was not easy for Ray Charles, but he managed, and eventually became one of the most successful soul musicians ever.
Ray was able to do this, even though he was blind, so, obviously, he believed that having good hearing is possibly the most valuable thing that anyone could ever have. This led him to start the Ray Charles Robinson Foundation in April of 1987. The auditory physiology laboratory was established in the name of Ray, to acknowledge his contributions to the organization. Ray is truly a hero and his lifelong adventure took many turns. Thus, I decided to research him and produce this biography.
In 1930, the greatest singer, pianist, and songwriter was born. Ray grew up in Albany, Georgia, but sadly, glaucoma blinded him at the age of six. Then he attended a school for the blind and learned to read and write music. When he left school, he started to play music to earn a living. Then, in 1947, he moved to Seattle, Washington. After some hits on Swing Time Records, he changed to Atlantic in 1952, where his music gained a rougher sound.
Throughout his career, he heavily influenced black musicians, white musicians, and audiences. Ray was often invited to perform at many political and patriotic events. He continued to sing even after 9/11/2001, and when he was into his 70's. In 2002 he released the album, "Thanks For Bringing Love Around." In the 50's Ray was a very successful man, and this stayed with him even into his later years. Many of his albums that were released between 1952 and 1962 went platinum. His last album, a country-western album recorded in 1962, sold 3 million copies. This sort of sales was a record for the time.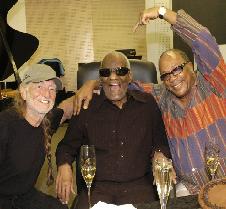 Sadly, as 2004 rolled around, Ray Charles had been diagnosed with acute liver disease and died on June 10th, 2004. After the 73 year-old Ray passed, the final album, "Genius Loves Company," was released in August. The final album won a Grammy award for Album of the Year and Record of the Year. Then, to top it all off, the award winning biopic "Ray" was released, starring Jamie Foxx as Ray. His life truly was a legacy, and many will miss him. He heavily influenced many to work toward their dreams no matter what might be trying to stop them. His hard work and determination all paid off, and it will for anyone that works toward their dreams.