Andrea Coleman breaks all biker stereotypes. Rather than a hell-raiser on a Harley, she is a friendly social entrepreneur in her late 50s, who has used her passion for motorcycling to transform healthcare delivery in rural parts of Africa. "Riders for Health," the charity she set up together with her husband Barry, now employs 136 health workers in Gambia, Zimbabwe and Nigeria, and is funded largely by motorcycle fans.


Coleman was born just outside the City of London in the UK. Her attendance at school was patchy and she showed little interest in learning as a child. Her early passions were for motorcycles and Chelsea football club, and her guiding ambition was to become financially independent. It was this ambition that stimulated her early forays into entrepreneurship, which included paper rounds, redeeming Coca Cola bottles for money, a parcel delivery service and a window cleaning business.


As an adult, Coleman did a four-year stint raising money for Chelsea football club, a job that helped to support her weekend trips to motorcycle races. She had a five-year spell as a professional motorcycle rider, and also worked as public relations manager for motorcycle champion Randy Mamola. However, it wasn't until Mamola and Coleman visited Somalia at the age of 40, courtesy of Save the Children, that her experience, skills and interests finally came together.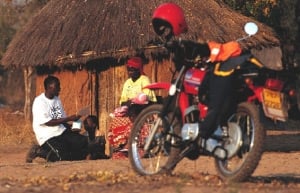 "What we saw there," Coleman recalls, "was women being taken to the hospital in wheelbarrows because there was no other means of transport; their husbands having to wheel them maybe five or ten miles with their own strength – over sand and narrow pathways; children trapped in rural communities with no bed net, no preventative medicine, and no sanitation. All because there was no way for health workers to reach them in their rural communities."


Coleman's key insights were: firstly, that people in rural communities in Africa don't have healthcare because there is no transport infrastructure; and secondly, that there was a graveyard of barely-used motorcycles that had been abandoned because no one knew how to maintain or repair them. Motorcycles, she realised, are the ideal vehicles for delivering healthcare in rural Africa because they can get down rough, narrow single tracks, they are relatively low cost to buy and maintain, and both men and women can easily learn to ride and maintain them.

So in 1990, Andrea Coleman and her husband, Barry, set up Riders for Health to focus on training mechanics to keep motorcycles in rural Africa running, providing the means for health workers and resources to reach the people who needed them. They started raising money for the organisation by putting on events in the motorcycle community - persuading the stars of motorcycle racing to give up one or two days a year to attend the events, charging the public for entry and giving the money to Riders for Health. This strategy is still the cornerstone of their fundraising, but they now also run auctions, take donations and work with a wide range of partners on developing transport infrastructure for Africa.

"Transport for Africa can't be the sole responsibility of a constituency like motorcycling," Coleman says, "but it has a great resonance for motorcycling because it shows that bikers are good guys and it shows that a motorcycle is a tool. We, in the developed world, get the idea that the motorcycle is just a toy, but it's not. It's a very valuable tool."

Life expectancy in some parts of Africa is 34. Coleman's hope is that, through the work of Riders for Health, she can begin to turn this terrible situation around.

The people who have inspired Andrea Coleman on her long journey include the starts of motorcycle racing - Valentino Rossi, Casey Stoner, and many others - as well as the sporting stars of Chelsea football club. "But my true heroes are my fellow social entrepreneurs," she says. "They are doing amazing things against all the odds."