"Don't limit yourself due to other people's limited imaginations. And don't limit others due to your limited imagination."
What else could a person add to her resume when she speaks four languages (Russian, English, Japanese and Swahili), went to Stanford on scholarship at 16, and is founder and president of two technology companies? On September 12, 1992, she was the first black woman in space. Her name is Dr. Mae Jemison.
Dr. Jemison was born in Alabama on October 17, 1956, and raised in Chicago. She did well in school from a young age and was able to go to Stanford University on scholarship at the age of 16. She graduated in 1977 with a B.S. in Chemical Engineering and a B.A. in African-American Studies. She attended medical school at Cornell University and became an MD in 1981. While in medical school, she traveled to Cuba, Africa and Asia to help sick people. After medical school, she spent time in the Peace Corps supervising medical staff in Sierra Leone and Liberia. In 1987, Dr. Jemison fulfilled a lifelong dream of being an astronaut when she was accepted into NASA's astronaut training program out of over 2000 applicants!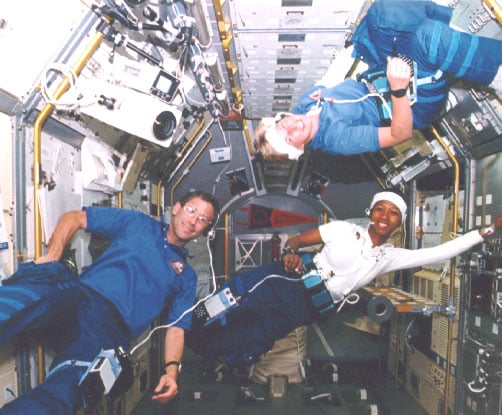 After flying in space, Dr. Jemison taught at Dartmouth College on the topics of developing countries and advanced technology. She then created the Jemison Group, which works to bring advanced technology to people worldwide and foster a love of science in students. She divides her time between speaking engagements, serving as president for two technology companies, and spending time with her cats in Houston.
Through the Jemison Group, she is able to help people throughout the world integrate science and technology into life. One project is Alpha, which is a satellite-based telecommunications system that is meant to improve health care in Africa. Another part of the Jemison Group is the BioSentient Corporation, which works on medical technology products using NASA technology.
Another project is The Earth We Share (TEWS). Dr. Jemison enjoys working with children to encourage learning in science and global issues. The Earth We Share is an international science camp spearheaded by Dr. Jemison for students from around the world between the ages of 12 and 16. The students work on solving global dilemmas such as "How Many People Can the Earth Hold?" and "Predict the Hot Public Stocks of the Year 2030." This is what Dr. Jemison had to say about TEWS in an interview with Macworld: "The Earth We Share was started in 1994, and its goal was to build a science literacy curriculum that was experiential in nature. I believe that the most important thing one gets from a science education is the ability to critically assess things and problem-solving skills. We wanted to create this program for 12-to-16-year-olds. The students tackle problems such as figuring out how many people the earth can hold and building the world's perfect house. They have four weeks to come up with the solution."
In 2004 Dr. Jemison was inducted into the International Space Hall of Fame. In 2006, she appeared in African American Lives, a PBS documentary hosted by Henry Louis Gates Jr. that uses DNA testing to trace the ancestry of several African Americans.
As busy as Dr. Jemison is, she still finds time to enjoy her favorite activities: "I like to do all sorts of things! I love to read all sorts of books, like fiction, science fiction, and adventures are my favorite! I love to dance and exercise, lift weights and play volleyball. I also enjoy cooking, watching movies, listening to music, gardening and traveling!"
Who are the people that Dr. Mae Jemison considers heroes? According to her website, "My mother and father, siblings, teachers, uncles and aunts, next door neighbors and friends, because I knew them day-to-day. Each one of their characters and values taught me something about life. My mother taught me the importance of lifelong learning and intellectual challenge. Linus Pauling, who won the Nobel Prize in 1952 in Biochemistry, and again in 1961, is a scientist who helped me know the importance of exploration and discovery, but also social responsibility."
Since childhood, Dr. Mae Jemison looked to the sky even though black women had never been there. Like many people, Dr. Jemison worked hard to reach her goal, but she is a hero because she helped so many others along the way to her dream. And like a true hero, she continues to help others every day.
Page created on 7/12/2015 2:24:08 PM
Last edited 2/11/2021 7:31:24 AM
Extra Info
Here are some of the honors and awards that Dr. Mae Jemison has received:
International Space Hall of Fame inductee (2004)
National Medical Association Hall of Fame
Honorary doctorates at: Princeton University (2000), Wilson College (2005), Dartmouth College (2006)
Selected as one of the nation's top seven women leaders in a poll conducted by the White House Project (1999)
People Magazine's "World's 50 Most Beautiful People" (1993)
Ebony's 50 Most Influential Women (1993)
Turner Trumpet Award (1993)
Kilby Science Award (1993)
Induction into the National Women's Hall of Fame (1993)
Johnson Publications Black Achievement Trailblazers Award (1992)
McCall's 10 Outstanding Women for the '90s (1991)
********************
Dr. Jemison's book Find Where the Wind Goes: Moments From My Life, published in 2001, describes growing up without ever giving up.