ROWENA GERBER ROCKS! She makes LEARNING FUN. She empowers her students to THINK GLOBALLY AND ACT LOCALLY. And in turn, they empower thousands of families in different parts of the world to be more self-sufficient. Rowena Gerber is a dedicated humanitarian and the inventive director of ACES (The Abess Center for Environmental Studies) at Miami Country Day School. Her elementary students raise money from the organic gardens they plant, then partner with the Miami Shores Rotary Club to send SOLAR OVENS to places like AFGHANISTAN and HAITI.
VILLAGER SUN OVENS can bake up to 1,200 loaves of bread a day, cook all forms of food, and purify water. Solar cooking is good for the environment because you don't have to burn trees or charcoal, which reduces deforestation and air pollution. Women are liberated from having to find and pay for fuel. All they need now is the sun.
The sunny climate of southern Florida provides the perfect conditions for the exploration, creation and use of solar cookers. Rowena explains that, "Each grade level designs and builds solar cookers, from primitive crayon melters for the 4-year-olds to the sophisticated inventions the fifth graders come up with... The thrilling part for us is to lay out the opportunities in the most inviting, creative way possible...then stand back and watch them explore and discover. Seeing the world through their eyes is invigorating for us and it gives us greater insight into analyzing how they learn and what is important to their development...not what is important to their reading/math scores - what is important to their overall development... i.e., their communication skills, working in groups or with partners, developing a genuine appreciation for nature, running with a passion...whether it be research on what they would serve at a guinea pig restaurant or which type of insulation works best in a solar oven. This, I believe, is what makes us different from most classrooms...the freedom to explore to the point of truly knowing and understanding."

MY HERO: How are you involved with iEARN (International Education and Research Network)?
ROWENA: For the last eight years, our students have been active participants in this wonderful organization. Membership in this organization has taken them beyond their classroom walls and has brought them into the homes and classrooms of children from around the world. Through this fabulous telecommunications network, students have the unique opportunity to study "with" children from other countries, not "about" them. Respect builds through friendship, and their online friendships are cultivating cross-cultural bonds that could last well into the future. Using videoconferencing, our students have collaborated by giving live solar cooking presentations with children from Australia, Jordan, India and Japan (all at the same time!), as well as frequent net meetings with their solar cooking partners in Australia.
MY HERO: How does this kind of learning impact your students?
ROWENA: Our standards are high, yet most children excel. A blend of using multiple intelligence techniques, both in teaching and in sharing what has been learned (assessment), provides students opportunities to learn and share in ways most natural for them. Leadership skills are enhanced through presentations and gentle encouragement.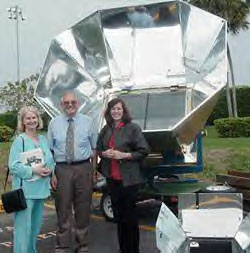 MY HERO: Do you have a hero?

ROWENA: I have several heroes, but one I would like to share with you is Paul Munsen, President of Sun Ovens. I selected him because of his relentless work to aid people in developing countries. His assistance in numerous countries (Haiti, Afghanistan, Dominican Republic, Ethiopia, Ghana, Nepal and North Korea) has literally saved thousands of lives. He works quietly in the background, but is tireless in his efforts to reach as many people as possible. Saving so many lives indeed makes him a hero - even recognized by U.S. Speaker of the House, Dennis Hastert. However, being a teacher, I often judge people by the way they relate to children. Mr. Munsen has driven from Chicago to bring the Villager Oven and to spend time with my students several times over the last few years. He has always treated all the students as though they were important members of his international team. He examines their ovens, listens and responds to their questions, leads experiments, and conducts interviews. He is an excellent role model for our students and has made it possible for them to be part of this outstanding effort to make a difference in this world.

MY HERO: What would you do if you had the attention of the whole world for 5 minutes?

ROWENA: "I would like to share my passion for children…their potential and their future. If I had a chance to address environmental educators I would stress the importance of concentrating more on solutions than on problems… with an emphasis on individual choices, not finger-pointing. Every child should be given the opportunity to make a positive difference in someone's life… hopefully adults would follow their lead."

MY HERO: What inspired you to launch this project?

ROWENA: "I think the turning point was when I learned that there were over 2 billion people on earth who rely on wood for cooking. When I read the statistics about the reported deaths from lung diseases, early cataracts, and blindness caused to the smoke from the fires, I realized that the simple solar cookers my students were designing could actually save lives. This allowed the children an authentic opportunity to become part of a global solution to a critical and timely problem."


MY HERO: What is in the future for you and ACES? (interview question posed in early 2004)

ROWENA: We will be presenting a solar cooking workshop for the 10th year this April 2004. We will also be part of the EARTHDAY celebration in Central Park on Saturday, April 24. Paul Munsen will be joining us with his large Villager Oven and several Sun Ovens. We will be displaying the professionally made Sun Ovens and our own student-made cookers (made from tires, lamp shades, boxes, etc.). We will also have supplies to teach people how to make their own cookers if they are interested. We [also] hope to display our student-designed solar powered machines. They have just been drawing up plans for small ferris wheels, merry-go-rounds, cars, and boats. (Just the right size for the fairies who live in our gardens!)

Update 2009 & 2010: Rowena Gerber and the The Abess Center for Environmental Studies at Miami Country Day School continues to promote solar cooking and has become the International Solar Cooking Education center for Solar Cookers International Society. They handle student and teacher questions from around the world, through video conference when possible, so that they can encourage, educate and demonstrate the use of these lifesaving solar ovens.

After the devastating earthquake in Haiti on January 12, 2010, Rowena and her students stepped up their assistance by sending even more Solar Cookers to the region.

They were finalists in the Stockholm Challenge and most recently won the DAR award for their contribution to environmental conservation.