Poverty has grown to be a major problem in the world today but there was one woman who had a goal to stop it. She inspired thousands through her generous acts and kind words. She had the courage to care for those who had been left in the dark by the world. She has left a lasting mark on this world and has changed it for the better. She is a hero. She is Mother Teresa. When I think of a hero I think of bravery, generosity, selflessness, and determination. Mother Teresa embodied these characteristics perfectly. That is why she is my hero.


At the age of 17, Mother Teresa felt as though she had a calling to be a Catholic missionary nun. She wanted to help the world. She took her vows as a Sister of Loretto, an Irish order that worked in India. She took the name of Teresa at her vocation. While in India she contracted tuberculosis. She was sent to Darjeeling in 1946 to rest and recuperate. While getting on the train to go to Darjeeling she heard a calling from God. This calling told her to leave the convent and live amongst the poor while helping them. In 1948 she was granted permission to leave the convent and begin her work.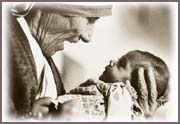 She began her work in the slums by teaching at a school. She taught the children the things she knew. She began learning about medicine on her own and put it to use by treating the poor for their sicknesses. When her former colleagues heard of her work, they left the convent and joined her. They rescued those who had been rejected by the healthcare system and treated them themselves. They rented a room to help the people who were left to die on the streets of Calcutta. The group was soon known as the Missionaries of Charity. With this group she aided the dying and sick at their last moments, trying to comfort them so they could have a peaceful death.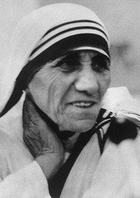 She and her sisters opened homes and orphanages to help the care for the sick at their dying moments. They also saved many lives as well. She opened orphanages for the homeless children that lived on the streets of Calcutta. Since then, more orphanages and homes for the sick have been opened around the world. She saw everyone as being a beautiful person and never left anyone behind. She tried with all of her heart to end the poverty and sickness, starting in the slums of Calcutta and working her way around the world. She was awarded many prizes and awards for her amazing work including the Nobel Peace Prize in 1979.


Even in the worst of times she was able to see the best in people. Even when she, herself, was in poor health, due to a sicknesses she had caught from those she helped, she never gave up on the goals she had. She wanted to help those who had been abandoned by the world. She was humble, brave, and an all-out amazing human being. She was able to bring light into the eyes of those whose light had been put out. She was able to see beauty in the poorest of the poor. With all of her effort she was able to make the lives of many, better. She was able to make the world a better place and her legacy of goodness is still being carried out today by the Missionaries of Charity. All the work she did not go to waste after her death. Her work is still being spread by all those inspired by her goodness. Today her missionaries and words of goodness have spread through out the world and will continue to live on.