In a world where most people are seemingly more concerned with material possessions and their own lives than the condition of the world and the hardships that others have to endure, Dr. Wangari Muta Maathai is using her hands and heart to sow a greener and more community-minded Africa, confident that the message will spread. She has spent most of her life planting trees and promoting movements designed to make people aware of how important it is to take care of the planet, starting by simply being more green-conscious within their own communities.

Maathai was born and raised in an African village near Mt. Kenya and was lucky enough to go to college, something that was, and is, rare for African women to do. She studied biology in America and eventually returned to Africa to get her Ph.D. in anatomy. It was after returning to Africa that Maathai became aware of the struggles that African women were facing due to the steady decline of the country's ecological system.

"Rural women I met through the National Council of Women of Kenya, in which I was an officer, related their needs to me," Maathai said in a speech to her peers. "They said they did not have enough wood for energy or good sources of clean drinking water or enough to eat, especially nutritious foods."

Maathai saw that the common thread to all of these problems was the declining environment around them. She took it upon herself to do something about the situation and founded the Green Belt Movement, a non-profit organization that plants trees to help restore the desolate ecosystem in Africa. Remembering the clear stream that she and her mother would fetch water from as a child and the vibrant trees and wildlife that surrounded her home [removed: as a child], Maathai was deeply moved to bring back that life to Africa for its future inhabitants. She worried that if people who knew how it could be didn't act soon, then no one ever would.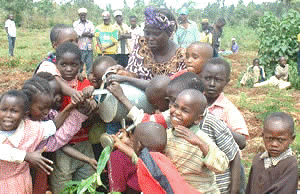 "Today, the stream has dried up, women walk long distances for water, which is not always clean, and children will never know what they have lost," she said. "The challenge is to restore the home of the tadpoles and give back to our children a world of beauty and wonder."

Since Maathai started the Greenbelt Movement in 1977, millions of trees have been planted in Kenya and other African countries. The movement is not limited to planting trees, but also promotes citizen education, primarily for women. Maathai set out to educate women in the ways of spotting environmental problems in their areas and teaching them how to solve them so that the ecosystem is constantly maintained and does not become depleted again.

In addition to her work with the Greenbelt Movement, Maathai was elected to the Kenyan parliament in 2002 with an overwhelming 98% of the vote, and served as the director of the Kenya Red Cross for 8 years. She has received over 20 awards for her work in education, health, and environmental issues, including the Nobel Peace Prize in 2004.

"I was surprised [when I won the Peace Prize] because I had no idea that anyone was listening. I quickly realized that although I had been given this great honor, the honor was not just for me but for the thousands of women who planted 30 million trees throughout Kenya as part of the Green Belt Movement, Maathai said."

People are indeed listening to Maathai and are taking action because she has inspired them. The United Nations Environment Program encouraged the Green Belt Movement to share its approach with like-minded organizations in other parts of Africa. Since then, the Pan African Green Belt Network was formed and a two-week training course taught representatives from other organizations in 15 other African countries how to make the same contributions that Maathai's organization did.





While Maathai has done much for the people of Africa, the success of her dreams did not come easily. Her ideas have been met with much criticism from former lawmakers of Africa and Maathai has been arrested and beaten by African police numerous times. Such turmoil might make many people give up, but Maathai was undeterred.

"People often ask me why I was not afraid. The best way I can explain it is to say that I did not project the fear. If you stay focused on what you want to attain, then you actually go right in there where many people would not dare to go," Mathaai said. "It's not that I am brave, or that I do not see the consequences, but by not projecting it, I do not embrace the fear that so often stops us from pursuing our goals."

What started with a simple desire to improve the state of the world around her has grown into an international movement that has improved conditions for people who did not know how to improve conditions themselves. Maathai hopes that the Greenbelt Movement will continue to thrive and inspire people to give back to the Earth that has given so much to them.

"I would like to call on young people, in particular, to take inspiration from the Nobel Peace Prize," Mathaai said. "I want them to know that despite the challenges and constraints they face, there is hope. I have a lot of hope in the youth."

Maathai's vision and determination has inspired countless numbers of people across the globe. Maathai's Greenbelt Movement has since spawned other movements dedicated to sustaining the environment and supporting education for women and children.

Maathai and her supporters started the Pan African Greenbelt Network, which has provided two-week training courses to representatives of like-minded organizations in Africa in order to teach them the methods of the Greenbelt Movement. Maathai hopes to share their experiences with organizations beyond Africa, as well.





Even though Maathai has changed the world for many Africans through her hard work and dedication, she cannot save the environment alone. No matter where you live or what age you are, you, too, can make a difference. All it takes is an idea or the desire to change something and the drive to make it happen.

During her Nobel Prize acceptance speech, Maathai said, "I would like to call on young people to commit themselves to activities that contribute toward achieving their long-term dreams. You are a gift to your communities and indeed the world. You are the hope and our future."