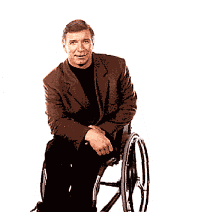 Rick Hansen is not only my hero, but the hero of all disabled people around the world. On March 21, 1985, Hansen left Vancouver to wheel around the world in order to raise money for spinal cord research. He also had another purpose--to prove that just because you're disabled doesn't mean you can't achieve your dreams.


While battling the flu, Hansen courageously reached his 8000th km in Paris, France on July 24th, and was warmly greeted by Pope John Paul on November 27th at the Vatican. This event was shown worldwide for all to see. On January 1, 1986, thieves stole about $3,000.00 worth of Rick's clothing but he still pushed on. On May 3, 1986, The Great China Miracle occurred.

On September 30th, Rick and his physiotherapist told the world of their plans to be married. On April 2, 1987, thousands of people stood along the highway leading to William's Lake B.C. to welcome their hometown boy. Lastly, on May 23rd before national television and with 60,000 people watching, Rick was honored for his incredible accomplishment of wheeling around the world and raising $10,000,000 for spinal cord research.

Rick Hansen is truly a hero because wheeling around the world is a great accomplishment. Helping the disabled believe they can do anything they set their mind to sets Rick Hansen apart from all the rest.