Douglas Mawson (1882-1958) was an Australian geologist. He led a research expedition into Antarctica to explore a 2000-mile-long coastline, the majority of which had never been seen by human eyes. In his quest to increase academia's body of knowledge, Mawson was forced to struggle for survival in the deep cold of Antarctica. His success in overcoming the hardships this trip presented to him and his crew elevated Mawson from explorer to hero.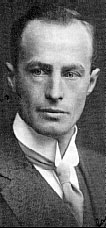 In December of 1911, Douglas Mawson and his crew headed toward Antarctica aboard a wooden expedition vessel called The Aurora. By January, the group had set up Main Base in Cape Denison, Antarctica. They began observing and recording geological, biological and meteorological data.

Mawson and two other explorers, Belgrave Ninnis and Xavier Mertz, set out on a journey east from Main Base toward the Transatlantic Mountains. They took along husky dogs and sleds with food and equipment. About 315 miles from Main Base, Ninnis fell into a crevasse (a large crack in a glacier) with six dogs and a sled carrying most of the food. Mawson and Mertz were in trouble. They only had six dogs and one sled with enough food for ten days.

The journey back to Main Base was an even more dangerous one. The two explorers had to build makeshift tents to replace the one lost in the crevasse. These tents were the only shelter they had from harsh Antarctic blizzards. The dogs were fed mitts and leather straps. When food rations became low, Mawson and Mertz had to resort to killing and eating their dogs to stay alive. One hundred miles from Main Base, Mertz died, possibly due to vitamin A poisoning from eating dog livers.

Mawson continued on by himself. When he finally made it back to Main Base, frostbitten feet and all, the first thing he saw was The Aurora in the distance, sailing back to Australia. However, all was not lost. Six of his men had stayed on to continue searching for the missing party and, together, they hunkered down for another Antarctic winter. A year later, The Aurora came back to pick them up. Upon his return to Australia, Mawson wrote about the feeling of coming home: "The welcome home, the voices of innumerable strangers--the hand-grips of many friends--it chokes me--it cannot be uttered!"