Iqbal Masih was born in Pakistan in 1982. He lived in Muridke, near Lahore. Iqbal was sold into slavery at a carpet factory at age four, and worked on looms until the age of 10, when he ran away from the factory and was eventually freed by Ehsan Ulla Khan, of the Bonded Labor Liberation Front, (BLLF). He started attending the BLLF's school.

Iqbal refused to go back to the carpet mill where he had worked because he knew his rights as a citizen. Although a child labor law existed in Pakistan, it was not enforced. Soon, speaking out against the mills, he gained international attention. Iqbal eventually started making speeches around the world, talking about child labor and his life experiences.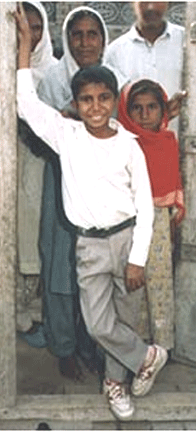 Iqbal won many awards. He was honored by the International Labor Organization in Sweden, received Reebok's 1994 Human Rights Youth Action Award, and while in the United States accepting the award, was nominated for ABC's "Person of the Week."

Soon after receiving the award, Iqbal returned to Pakistan, where he was murdered, on April 16, 1995. He was 12 years old. No one really knows who did it, but there are assumptions that the "Carpet Mafia", was responsible, because many carpet industries were losing a lot of business due to Iqbal's speeches.

Iqbal is one of my heroes because it takes a lot of courage to stand up to such powerful people, and to speak out against evil.