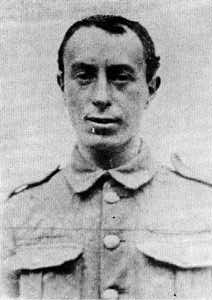 Isaac Rosenberg was born in Bristol, England, on November 25, 1890. At age seven he moved with his parents to London. Rosenberg showed a marked talent for painting and, for awhile, was allowed to take afternoon art classes at the Stepney Green School in East London. When his parents could no longer afford the tuition, Rosenberg went to work as an apprentice with Carl Hentschel's company of engravers. He was 14 years-old.

For many years, Rosenberg worked during the day and took evening art classes at Birkbeck College. He won several awards for his paintings. In 1911 Rosenberg was admitted to the Slade School of Art and was sponsored by family friends who paid the tuition. Between 1911 and 1914 he studied painting and wrote poetry, achieving success in both the visual and written arts. A 24-page pamphlet of his poems was published in 1912.

In 1914 Britain entered into war with Germany and the government launched a massive enlistment campaign. Rosenberg signed on with the British army the next year. He wound up in the trenches in France, writing poems and letters home.


For the next three years, Rosenberg lived in the trenches, writing and sending poems off to journals such as Poetry in far-off Chicago. In April of 1918, only seven months before the armistice, Rosenberg was killed in the last hour of a night patrol.


Literature scholars Ellmann and O'Clair maintain that Rosenberg was heavily influenced by the Romantic poet John Keats. Aesthetic similarities between the poets aside, a certain biographical similarity certainly must have informed the tenor of their writing: Both died young, having spent their final years in forced cohabitation with their own mortality. Keats died at age 21 after a bout with tuberculosis; Rosenberg died at age 28, after enduring almost four years of government-sponsored massacre. The works with which he left us are both buoyed by clever language and freighted with the somber imagery of death and time's passing. In 1916 Rosenberg wrote, in a letter to Laurence Binyon:
"I am determined that this war, with all its powers for devastation, shall not master my poeting; that is, if I am lucky enough to come through all right."
Like Keats, Rosenberg died before the full measure of his talent could be taken. But his poems contain the mischief, melancholy and disappointment of an author well versed in the beauties and horrors of human activity.

---
Break of Day in the Trenches The darkness crumbles away.
It is the same old druid Time as ever,
Only a live thing leaps my hand,
A queer sardonic rat,
As I pull the parapet's poppy
To stick behind my ear.
Droll rat, they would shoot you if they knew
Your Cosmopolitan sympathies.
Now you have touched this English hand
You will do the same to a German
Soon, no doubt, if it be your pleasure
To cross the sleeping green between.
It seems you inwardly grin as you pass
Strong eyes, fine limbs, haughty athletes,
Less chanced than you for life,
Bonds to the whims of murder,
Sprawled in the bowels of the earth,
The torn fields of France.
What do you see in our eyes
At the shrieking iron and flame
Hurled through still heavens?
What quaver—what heart aghast?
Poppies whose roots are in man's veins
Drop, and are ever dropping;
But mine in my ear is safe—
Just a little white with the dust.

June 1916