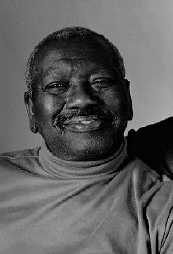 Jacob Lawrence was born in Atlantic City on September 7, 1917. His parents were part of the Great Migration of Black Americans (1916-1930). One million people left the rural South for the urban North during this period. He moved with his family to Easton, Pennsylvania. After his parents separated, he moved with his mother to Philadelphia.

In 1927, his mother moved to New York and placed Lawrence and his siblings in foster homes. In 1930, Lawrence, age 13, and his brother and sister moved to Harlem to live with their mother. This period was The Depression, and people had difficulty surviving. Lawrence worked to help support his family.




He began taking art classes with Charles Alston at an after-school arts and crafts program. At the age of 15, he decided to become a painter. Jacob loved color. He used bright, bold color to dramatize the one-dimensional aspect of his work. This flat appearance is Lawrence's signature style. Also, Lawrence frequently liked to tell a story with his paintings. His paintings told the stories of black history or stories of his own life experiences.

Lawrence was able to survive as an artist thanks to the government-sponsored Works Progress Administration, which hired writers, artists and musicians to document American history. This period was known as the Harlem Renaissance because the WPA trained artists, musicians, writers and other creative artists. In 1938, Lawrence received a WPA Federal Writer's Project (later Federal Workers' Project) assignment. In 1940, he received a fellowship from the Rosenwald Fund and he started his Migration Series, 60 panels in all.

In 1941, at the age of 24, he became the first African-American artist to cross over the "color line" and exhibit his work in galleries and museums previously only showing the works of white artists. He started in the Downtown Gallery in New York, which included the permanent collection of The Museum of Modern Art and the Phillips Collection. From the 1940s to the 1960s, he lived in New York City. In 1963, he began printmaking.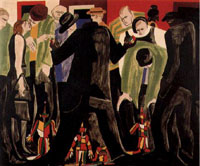 In 1964, Lawrence visited Africa, which inspired his Nigerian Series (1964-1965). In 1971, he moved to Seattle to teach at the University of Washington. Starting in 1993, Lawrence illustrated (or wrote and illustrated) many books for children about African-American history, and created the art for a new edition of Aesop's Fables.
Lawrence died on June 9, 2000 at the age of 82.