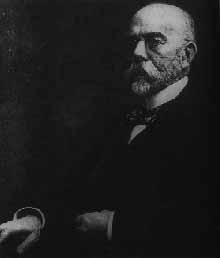 Robert Koch lived in Berlin, Germany in 1876. There he was the first person to isolate the anthrax bacillus and he was the first person to show that a specific organism was the cause of a disease. In 1882 he discovered the Mycobacterium tuberculosis as the cause of the disease. He went on to lead an expedition in 1883 to India and Egypt and discovered the cause of Cholera- Vibrio cholerae


Koch became the first to grow bacteria in colonies in 1890. First on potato slices and later with his pupil "Petri" on solid gelatin media.


Koch could not reproduce Cholera in animals so his rules had to be modified. But Koch brought a new order to medicine and the study of disease. He lived at time when people were superstitious and attributed disease to punishments from God or other strange occurences in the universe.


Some of the other Doctors in Berlin at the time ridiculed Dr. Koch. They found it amusing that when he drank a vial of Cholera Bacteria all he got was a mild case of diarrhea!


The criteria that Koch set forth for ascertaining the microbial causes to a specific disease were:
The microbe must be present in every case of the disease.
The microbe must be isolated from the diseased "host" and grown in a pure culture
The disease must be reproduced when a pure culture is introduced to a non diseased susceptible "host."
The microbe must be recoverable from an experimentally infected host.

While his theory in practice has been modified over the years the basic belief that strains of microbes can be identified with specific disease has helped people find the cause and hopefully the cure to many diseases.

Koch was so devoted to proving his ideas that he was willing to infect himself with cholera in order to try to get to the bottom of the disease. This type of dedication to one's ideas is unique and we can be thankful to Koch for challenging the existing notions of medicine in the 1800's and giving us a basis for research for the future.