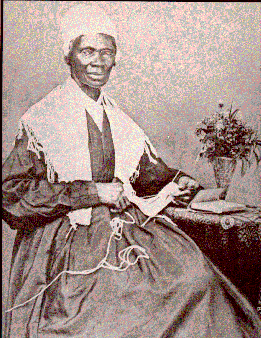 Isabella Van Wagener was born into slavery in Hurley, New York in 1797. She was one of 13 children but she never got to know her brothers and sisters because they were quickly sold as slaves.

Her master, Mr. Dumont, arranged for her to marry a slave named Thomas. She had 5 children with him, but her master sold some of them.

She was released following the New York Anti-Slavery Law of 1827; however, slavery was not abolished nationwide for 35 years. She lived for a time with a Quaker family who gave her the only education she ever received. They also helped her get back one of her children.

She became an outspoken advocate for women's rights as well as blacks' rights. In 1843, she changed her name to Sojourner Truth. Everywhere she spoke, she made a lasting impression. She was physically strong and over six feet tall, and she had a powerful, booming voice.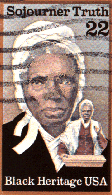 She became famous in 1851 for her speech at the Women's Rights Convention in Akron, Ohio, during which she exhorted the audience to consider the rights of black women, asking, "Ain't I a woman?"
Harriet Beecher Stowe, a noted author and abolitionist, wrote about her. Truth actively supported the black troops during the Civil War and helped get the government to give land to those soldiers. She continued to travel and preach throughout the Northeast and Midwest from her home in Battle Creek, Michigan, where she died at the age of 84.

In 1995, as a fitting tribute to her historical significance, NASA named the Mars Pathfinder rover the "Sojourner" in honor of Sojourner Truth. The naming was the result of a year-long competition in which students from all over the world suggested names. Twelve-year-old Valerie Ambroise from Connecticut submitted the winning essay in which she talked about Sojourner Truth, who made it her mission to "travel up and down the land" advocating for civil rights. The Mars Pathfinder touched down on July 4th, 1997, on the 200-year anniversary of Sojourner Truth's birth.