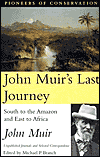 John Muir''s Last Journey: South to the Amazon and East to Africa
by John Muir; Edited by Michael P. Branch

Publisher: Island Press/Shearwater Books, January 2004
ISBN: 1-55963-641-6

MY HERO recommends this book to adult readers.

Synopsis
A rare glimpse of Muir whose interests as a naturalist, traveler, and conservationist extended well beyond the mountains of California.


---
Hero(es) associated:
John Muir by Harold W. Wood, Jr.
John Muir by David from Brookfield
John Muir by Josephine from San Diego
---
Users Reviews:
sarah 11/20/2008 8:59:05 AM
this is an inspiring man john muir is a great person. hislife is interesting. this book is great.
Krista Fisher 10/12/2005 12:28:55 PM
"...a rich and fitting tribute."--Publishers Weekly "With previously unpublished journal entries and letters, this volume captures the original mountain man's final trek....Those who thought Muir's last years were overshadowed by his failure to save Yosemite's Hetch Hetchy Valley from damming should be pleasantly surprised to find their favorite Sierran heading up the Amazon, having 'a glorious time in this fine wil America.'"--Outside
---
Add your comments