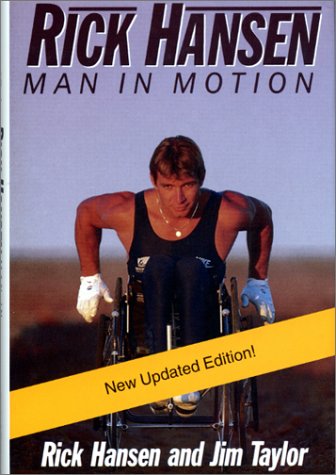 Rick Hansen: Man in Motion
by Rick Hansen and Jim Taylor

Publisher: School Specialty Publishing, September 1988
ISBN: 0872261948

MY HERO recommends this book to adult readers.


---
Users Reviews:
shevy harman form ssm (on) 6/14/2012 9:46:23 AM
I think that Rick is doing a good thing he is one of my heros like Terry fox, my English teacher miss.k, and my mommy. I love people that do good things for people that do not have the money for food, medical stuff, and injuries. you wheel on hero wheel on.
2/7/2011 2:49:29 PM
it's amazing!
ruthie 10/18/2009 10:08:50 AM
wow a truely great canadian!
tucker schar 9/12/2008 9:10:09 AM
hey youve inspired my friend tyler hes in a wheel chair cause of a car accident he's paralyzed from the hip down
aiman 9/24/2007 11:56:59 PM
well, it's okay. the book inspired me about life. you're so good, Mr.Hansen.
mark kim 1/20/2007 9:03:35 AM
this is great book
Carly 5/21/2006 10:36:35 AM
you've inspired me in so many ways...I don't think i could ever wheel myself around anywhere, never mind around the entire circumference of the earth..so i give you lots of credit for reaching your goal. Congrats! Hope lifes going good, bye!
heather pental 1/4/2005 11:52:02 AM
rick hansen i was grateful when i moved from the school that is named after you rick hansen public school in london ont. I was so proud when they handed out the book man in motion to me and that you signed it for me. It has showed me that i can do anything that i put my mind into.
tyler duggan 12/17/2004 11:40:11 AM
cool
---
Add your comments