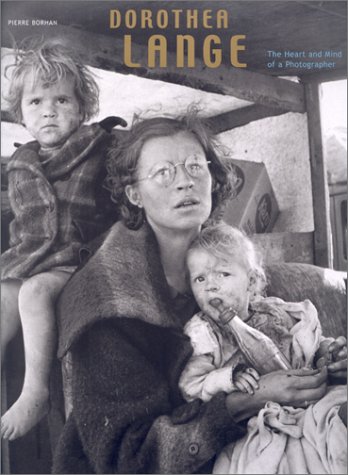 Dorothea Lange: The Heart and Mind of a Photographer
by Pierre Borhan

Publisher: Bulfinch Press 2002
ISBN: 0821227912

MY HERO recommends this book to readers of all age groups.

From the Publisher
"Dorothea Lange's images serve as witness to the plight of hundreds of thousands of Americans who migrated westward in search of work, food, and money during the Great Depression. Her iconic photography, including several previously unpublished images from her archive at the Oakland Museum of California, is studied here with a depth and scope unavailable in any other volume." Dorothea Lange: The Heart and Mind of a Photographer puts into perspective a life devoted to humanity and sheds new light on a body of work that broadened the horizons of photography even as it served a public purpose. Essays and recollections by Pierre Borhan, A. D. Coleman, Ralph Gibson, and Sam Stourdze accompany the photographs.


---
Hero(es) associated:
Dorothea Lange by Susannah Abbey
Dorothea Lange by Amanda from San Diego
---
Users Reviews:
E. Jackson 1/13/2010 4:17:27 AM
These photographs are life changing experiences...
Nora Rodriguez 10/10/2008 8:06:06 AM
im doing a project of her!!! i find all her work interesting, and me as a Migrant worker it feels nice to know that there is someone who photographed us...the hard workers and the way we live(or used to live) i really look up to her work and talent thanks to Mrs.Schnider who introduced this lady to me!
james lester 12/13/2007 7:15:39 AM
im learning about her in my social class now..i want to learn more!
Darren Mitchell 4/25/2007 6:27:59 AM
i find this image both touching and emotional combined, a face can be so telling in how someone is or how they are feeling, and with this image you know she will still be suffering for a long long time to come..... barking essex england ....
---
Add your comments