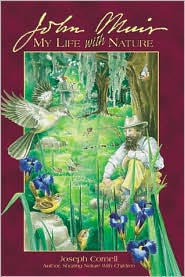 John Muir: My Life with Nature
by Joseph Bharat Cornell, John Muir

Illustrator: Elizabeth Ann Kelley
Publisher: Dawn Publications, July 2000
ISBN: 1584690097

MY HERO recommends this book to children readers.

Synopsis
This unique "autobiography" of John Muir is told in his own words, brimming with his spirit and his adventures. The text was selected and retold by naturalist Joseph Cornell, author of Sharing Nature with Children, who is well known for his inspiring nature games. The result is a book with an aliveness, a presence of goodness, adventure, enthusiasm, and sensitive love of each animal and plant that will give young adults an experience of a true hero. It is a book that expands your sense of hope, adventure, and awareness. Adults will be just as fond of this book as young readers. Cornell includes numerous "explore more" activities that assist in appreciating Muir many qualities.

Author Biography: Joseph Cornell is one of the most highly regarded nature educators in the world today. Being with him in nature is a memorable event because of his obvious joy being in nature and his love for the Earth. In the late 1970s, Cornell''s book introduced "nature games" in which nature is the teacher; games that inform, inspire, and are just plain fun. Almost two decades later, with about 500,000 copies of Sharing Nature with Children sold in 15 languages, and many thousands of his other books, "Sharing Nature" has become not just a book, but a worldwide approach to nature education.




---
Hero(es) associated:
John Muir by David from Brookfield
John Muir by Harold W. Wood, Jr.
John Muir by Josephine from San Diego
---
Add your comments