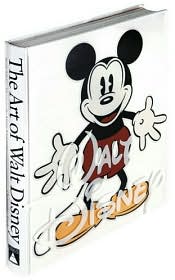 The Art of Walt Disney: From Mickey Mouse to the Magic Kingdoms, Revised and Expanded Edition
by Christopher Finch

Publisher: Harry N. Abrams, Inc. 1975
ISBN: 9780810949645

MY HERO recommends this book to adult readers.

Synopsis
The Art of Walt Disney is one of Abrams' enduring classics. Thirty years and well over half a million copies after its first publication in 1973, it is still considered the definitive study of The Walt Disney Company's vast artistic achievements through the decades. The book tells the remarkable story of Walt Disney and the company he built, from Mickey Mouse to animated feature films to theme parks. Based on hundreds of interviews with Disney staff members past and present, the text is illustrated with more than 800 illustrations ranging from concept art to film stills to views of the theme-park attractions.

This revised and expanded edition covers all of the major projects since the 1995 edition, including the films Lilo & Stitch, Brother Bear, and Home on the Range, as well as Disney's collaborations with Pixar: Toy Story I and II; Monsters, Inc.; Finding Nemo (the highest-grossing animated film in history); and The Incredibles. The live-action films and Broadway productions are also covered, as well as the latest theme-park developments, including brand-new parks such as Tokyo DisneySea and Hong Kong Disneyland.

Author Bio: Christopher Finch is a regular contributor to Architectural Digest and the author of more than 20 books, including The Art of the Lion King, Jim Henson: The Works, and Abrams' Norman Rockwell's America.




---
Hero(es) associated:
Walt Disney by Janice Mcdaniel from Laguna Beach, LaVerne from Yorkton, and Shelley from Moretown
---
Users Reviews:
Walt Disney 1/23/2008 11:09:20 AM
I want to know more about Walt disney because he is my hero. We encourage you to read the stories on MY HERO about Walt Disney. Be sure to check out the related links at the end of the stories for more information about your hero. -- The MY HERO Library Staff
rebecca jones 4/26/2006 5:27:40 AM
I can't believe that you made so many great movies for children for so many great years you made mickey, minnie, goofy, and so many more for kids to love and want to watch more makes me feel really good inside. I love your work I watched it since I was a baby.
---
Add your comments