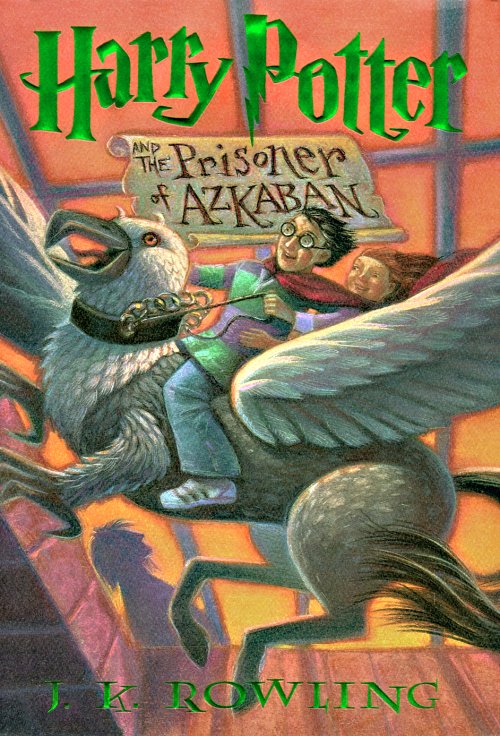 Harry Potter and the Prisoner of Azkaban (Book 3)
by J. K. Rowling

Illustrator: Mary GrandPré
Publisher: Scholastic; (September 8, 1999)
ISBN: 0439136350

MY HERO recommends this book to readers of all age groups.


---
Hero(es) associated:
Harry Potter by Ronnie from Center Valley
J.K. Rowling by Kids, everywhere
Harry Potter, Ron Weasley, and Hermione Granger by Kaiti from Cincinnati
---
Users Reviews:
soulja girl 12/17/2007 3:14:30 PM
i think that all the harry potter books are good and out of all of them the 3rd one is my favorite
J 5/22/2007 8:09:44 AM
I've read every Harry Potter book and can honestly say from my stand point that this is the most amazing mind capturing book i've read.
Wongtang12 4/18/2007 3:11:39 PM
HArry Potter books are the only ones i read!
alison 4/22/2006 11:15:36 AM
I really liked when harry goes back in time.
cool 2/19/2006 3:53:09 PM
i LOVE that book
tyler 1/12/2006 7:54:53 AM
great
cool dude 1/12/2006 7:48:02 AM
I think that Harry Potter is cool but make more real
Carly Delight 1/10/2006 8:41:48 AM
all of your harry potter stories are so amazing and i hope you never stop writing j.k!!!
Cailey and Rebekah 8/21/2005 3:50:34 PM
We love Harry Potter!!!! The books are awesome,
Alisha DeFever 1/20/2005 7:48:54 AM
I love your books. i cannot put the books down.
---
Add your comments