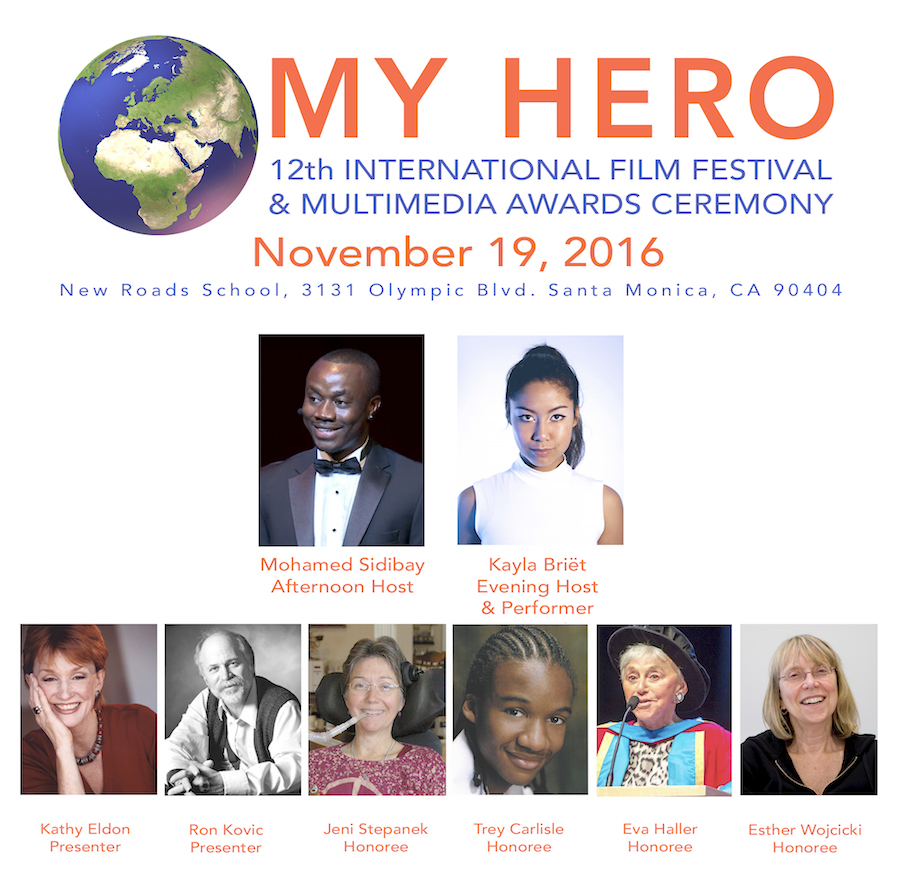 CONTACT: WENDY MILETTE

FOR IMMEDIATE RELEASE
media@myheroproject.org
949-376-5964
PLEASE JOIN MY HERO FOR OUR 12TH ANNUAL INTERNATIONAL FILM FESTIVAL & MULTIMEDIA AWARDS CEREMONY!
SANTA MONICA, CA - 11/17/16 - The MY HERO International Film Festival brings together filmmakers of all ages and levels of experience to honor the efforts of everyday heroes working to create social change.
Join us this weekend for the Multimedia Awards Ceremony on Saturday, November 19th, and meet the inspiring filmmakers who are changing our world.
WHEN: Saturday, November 19th, 2016
•

Afternoon Program: 4:00 PM to 6:00 PM PST
•

Reception: 6:00 PM to 7:00 PM PST
•

Awards Ceremony: 7:30 PM to 10:00 PM PST
WHERE: Herb Alpert Educational Village at New Roads School
Capshaw-Spielberg Center for Educational Justice
Ann and Jerry Moss Theater
3131 Olympic Blvd.
Santa Monica, CA 90404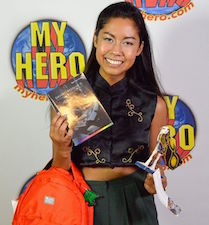 Our host and performer is Kayla Briët, a 20-year-old, award-winning filmmaker, composer, and musician.
SPECIAL HONOREES INCLUDE:
Esther Wojcicki – Global Educator Award
Esther Wojcicki is a pioneer who believes that students deserve to be in charge of their own learning. Her book, "Moonshots in Education: Blended Learning in the Classroom," provides an important platform for a global education movement to improve teaching and learning around the world.
Eva Haller - Women Transforming Media Honoree
When Nazis invaded her native Hungary in World War II, 12-year-old Eva Haller convinced a soldier to spare her life because she was, "too young and too beautiful to die." Today, she leads delegations to the United Nations and helps shape non-profits that support women around the world.
Trey Carlisle - Emerging Artist Award
In the 8th grade, Trey Carlisle made a vow to fight injustice by telling important stories. Over the past four years, he has produced award-winning documentaries that speak out against violence and discrimination. He is a passionate voice for positive change in the world.
Jeni Stepanek, Ph.D - Humanitarian Award
Jeni Stepanek, a mother, author and advocate for peace is the winner of The MY HERO Project's 2016 Humanitarian Award. By mentoring youth and adults who are committed to peace, Jeni has earned the nickname "Mama Peace" from leaders around the world. Stepanek's commitment to global peace has taken many forms, most recently she has been teaching peace workshops at John Hopkins University. Stepanek has a Ph.D. and M.Ed. in Early Childhood Special Education and is also a NY Times Bestselling author for her books Messenger: The Legacy of Mattie J.T. Stepanek and Heartsongs.
SPECIAL PRESENTATIONS:
Ron Kovic, author, artist and peace activist, will present the 2016 Ron Kovic Peace Prize, with its $1,000 cash prize, to Liz Mermin, from the Thomson Reuters Foundation, for her film "POST-WAR MACHISMO: BE A MAN." The film features Dragan Kislin, a man from Bosnia and Herzegovina, who had been a teenage a bully. At age 15, Kislin's father fled to avoid gambling debts and his mother was despondent. Dragen joined an organization called the Be a Man Club. It was a move that set him on a path toward becoming a peace advocate and community leader.
Kathy Eldon, author, activist and founder of Creative Visions Foundation will present the Dan Eldon Activist Award in honor of her late son Dan Eldon, a photojournalist who was killed in 1993 while on assignment in Somalia. This year's award, and $500 cash prize, goes to "WATER SONG," a film by Will Parrinello from the Mill Valley Film Group. "WATER SONG" features Máxima Acuña, a Peruvian subsistence farmer who stood up to a giant mining corporation that wanted to place a gold and copper mine on her property.
John Seigel Boettner, educator and founder of the Santa Barbara Middle School Teen Press will offer a new award this year. The TEEN PRESS Award comes with a $500 cash prize for a hero-themed journalistic story by a youth reporter. This year's winner is "SUPERHEROES OF A NEW ORIGIN" by Ramses Mosley-Wise & Kamau Mantague of Baycat Production. The film tells the story of Eddie Zheng and Harold Atkins, who were able to rise above hardship and incarceration to become community leaders.
Judy Anderson, MY HERO Boardmember and President of the Foundation for the Contemporary Family will present the Relationships First Award, a $1,500 cash prize for a short film that creatively depicts the heartfelt connections found in any type of contemporary family relationship. This year, there was a tie for first place between two excellent films. The first, "MUTUAL RESCUE: ERIC AND PEETY," tells the story of a 340-pound man, whose health was failing. After adopting Peety from the Humane Society of Silicon Valley, Eric found the motivation to set a healthier course for his life. This second winner is "UPSTANDERS: THE MOSQUE ACROSS THE STREET," produced by Howard Schultz and Rajiv Chandrasekaran for the Starbucks Upstanders series, chronicles the reaction of a small community in the Bible belt as a mosque is built across the street from a local church.
Guitars in the Classroom and The MY HERO Project will bestow the first place award for the MY HERO Song Contest to "Stand Up," a song by P.M. Eaton that features the Girard College Lower School Choir. The song's message is that, with love, care and service, we can all be heroes, and make the world a better place.
MY HERO AWARDS:
The MY HERO Media Award honors an organization for outstanding work in media. This year's winner is The Righteous Conversations Project, a group dedicated to preserving and sharing stories of Holocaust survivors. The project was launched in 2011 by a group of parents and students for the non-profit organization Remember Us. The organization later merged with the Los Angeles Museum of the Holocaust (LAMOTH), where the program now resides.
The Immersive Storytelling Award honors a Virtual or Augmented Reality Experience that uses new technology to promote positive social change. This year's award goes to Dr. Miguel Nicolelis from Duke University, for "THE WALK AGAIN PROJECT." The project, by AASDAP and Lente Viva Filmes, shows Nicoleilis' innovative use of VR technology to discover new hope and therapies for people with spinal cord injuries.
The People's Choice Award winner is chosen with help from students around the world. Kids and teens in 197 countries cast their votes through an online ballot. This year's winner is "WAVES FOR WATER - NEPAL EARTHQUAKE," by Aaron Flynn & Ben Edwards. The film features relief efforts of Jon Rose and the organization Waves for Water, after the devastating earthquake that hit Nepal in April of 2015.
The 1st Place Student/Mentor Award will be presented to Director Fauzia Minnallah for her short film "AMAI'S PAINTINGS OF PEACE," a tribute to the children of the Army Public School who were killed by terrorists. The four-minute film shows children of various schools and churches painting murals of hope and resilience in memory of the slain children.
Winning films will be featured on the MY HERO website after the festival, to be enjoyed by a global audience.
Myhero.com/winners
The MY HERO International Film Festival is part of The MY HERO Project, a 501(c)3 organization dedicated to sharing stories of heroes from all parts of the world. MY HERO's award winning web site (myhero.com) hosts the world's largest archive of hero themed stories, music, art and short films.
To learn more about The MY HERO International Film Festival, email Wendy Milette at media@myheroproject.org or click HERE.
To view a slideshow and learn more about MY HERO, click here.
We are grateful for your support for our Global Learning Community.