Contact: Wendy Milette                           FOR IMMEDIATE RELEASE
media@myheroproject.org
1278 Glenneyre, #286
Laguna Beach, CA 92651
949.376.5964

The MY HERO Report: Youth Edition Vol. 2 wins top prize at 2012 International Family Film Festival

Los Angeles, CA - 4/10/12- The MY HERO Project is pleased to announce that its most recent documentary film The MY HERO Report: Youth Edition II has won Best Documentary Short Film at the 2012 International Family Film Festival.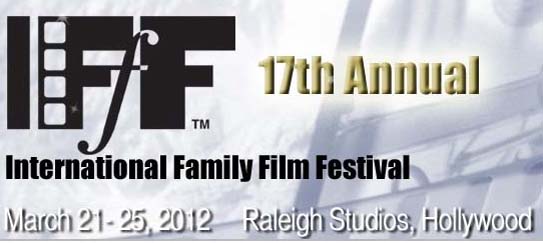 The MY HERO Report is part of an ongoing multi-media project (myhero.com) that illuminates the work of heroic individuals around the world with films, art, stories and music.  Students, professionals, parents and teacher are all invited to take part in this global story telling project that celebrates the best of humanity.
The MY HERO Report is a video anthology of short films created by students and professionals woven together into a half hour format that is broadcast in classrooms, community centers, and on public educational TV stations.  Funds for this program were made possible in part by The American Legion Child Welfare Foundation. Jeanne Meyers, Director of The MY HERO Project and the short film was thrilled to receive this honor.  "The team of filmmakers, artists, students, teachers, individuals and foundations that work to support this not for profit educational project understand the importance of providing positive role models in the media for family viewing," she stated.  "On behalf of this creative team of media makers and heroes we thank the International Family Film Festival for this special recognition."
The heroes featured in The MY HERO Report: Youth Edition II include: Tommy Carroll, a blind skateboarder who has won the admiration of professional skaters like Tony Hawk while excelling academically and competing in triathlons in his free time.  Slater Jewell-Kemker who began her film career as a Young Reporter for MY HERO when she was 6 years old and who is now working on a feature film to highlight the efforts of young people to halt climate change around the world.  Mohamed Sidibay, a former child solider from Sierra Leone, whose passion for learning and commitment to human rights landed him a scholarship at George Washington University this year.
The MY HERO Report: Youth Edition Volume 2 was screened before a packed house on March 24th at Raleigh Studios in Hollywood, CA.  The film was selected as the best documentary short by a panel of IFFF programmers and invited Film Industry representatives.  Audience members who attended the IFFF screening gave The MY HERO Report a warm reception, and praised the filmmakers at MY HERO for bringing such inspiring stories to light with a strong cinematic touch.  Many responded strongly to the message articulated by Slater Jewell-Kemker, "I think that what youth can do, especially with something as powerful as filmmaking, is lend their voice in an honest way to important issues…and get the world they want."
Held annually in Los Angeles, the IFFF has been celebrating the best in family-friendly films since 1993.  Whether recognizing the work of major studios or independent filmmakers, the IFFF seeks to fight the preconception that "family films" mean "shallow, fluffy or boring" films.  The festival's stated mission is to deliver stories and films that are engaging and appropriate for all members of the family, with themes that explore the definition of family in positive and illuminating ways.
To learn more about The MY HERO Report and find out how you can order a DVD copy, visit: http://www.myhero.com/mhr2
To see the full list of winners for the 2012 International Family Film Festival, go to: